Intraday Market Thoughts
Payrolls Shock is Wakeup Call to Hawks & USD Bulls
The US September jobs report deals a significant blow to the notion of a 2015 Fed hike--against which we consistently disagreed throughout the year – as it achieved the gloomy feat of disappointing across the board -- headline rate (first back-to-back months of sub 200K in 18 months), downward revision in prior months (-59K), notable decline in average hourly earnings, and the unchanged unemployment rate was offset by the decline in the participation rate to a fresh 38-year lows.
Click To Enlarge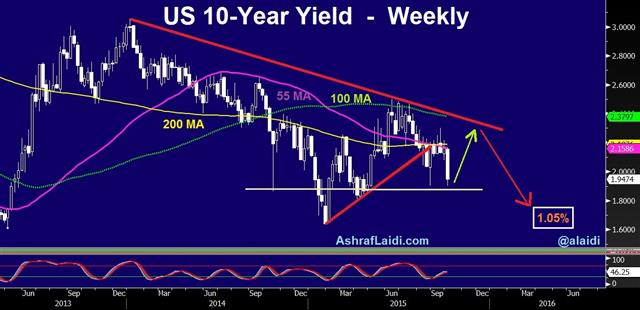 Especially sobering about this report is just when the Fed had been increasingly shifting attention towards slowing inflation metrics under the assumption that labour market metrics will continue improving, this happens.
The door to Fed lift-off has been shut beyond Q1 2016 as the extended weakness in the world's biggest buyer of commodities, combined with the erosion of the "Gulf Nations' Put" as well as the decline in EM FX reserves is a de facto tightening of equity and bond markets.
China and EM have done the Fed a huge favour by saving it from committing a monumentally embarrassing rate hike, against which we warned in our Sep 28 note:
"The rate of deterioration in the debt profile of energy and mining companies is far from that reached by sub-prime lenders in 2007-2009. But the situation is getting worse. A Fed hike would be a costly and embarrassing policy error".
US 10-year yields have extended losses below the all-important 200-day moving average as well as the 55-200 WMA confluence, but we expect gradual stabilisation to ensue near 1.87%, before rebounding to as high as 2.25% later this quarter. Escalating worries of a unsustainable EM debt and a global recession in late Q1 will force bond yields back below 1.90%, until we reach 1.10% in Q3 2016.
Act
Exp
Prev
GMT
Average Hourly Earnings (SEP) (m/m)
0.0%
0.2%
0.4%
Oct 02 12:30
Average Hourly Earnings (SEP) (y/y)
2.2%
2.4%
2.2%
Oct 02 12:30
Unemployment Rate (SEP)
5.1%
5.1%
5.1%
Oct 02 12:30
Latest IMTs