Intraday Market Thoughts
PMIs & ICBMs
Key Chinese sentiment surveys softened on the weekend and North Korea test fired a ballistic missile. The yen is slightly stronger to open the week. CFTC positioning data showed cable shorts narrowing for the second week and CAD shorts increasing. European markets are shut due to May Day, but the US will be open, awaiting the release of the manufacturing ISM. It will be a very busy week with the Fed decision, CPI and NFP. There are 8 trades in progress, 4 in FX, 2 in commodities and 2 in indices.
Click To Enlarge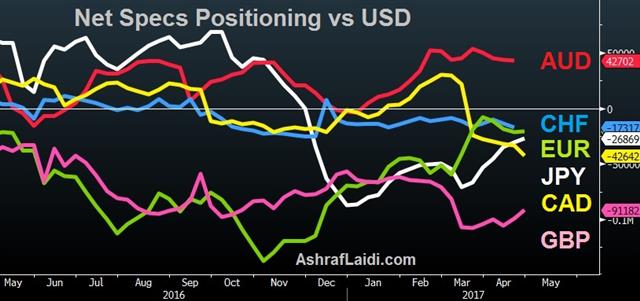 The official Chinese manufacturing PMI stumbled to 51.2 from 51.8. That's short of the 51.7 consensus estimate as well. One the services side there is no survey of economists but it also fell to 54.0 from 55.1. Worries about China are low at the moment but can flare up quickly so we will be watching for subsequent numbers and keeping an eye on domestic markets in the week ahead.
As has been the theme all year, politics and geopolitics remain top drivers. North Korea tested a ballistic missile late on Friday just hours after Trump warned that a "major, major conflict" was possible. The test appeared to fail but that won't do anything to dampen rhetoric or worries.
The final political football remains Congress. The House struggled to pass a one-week funding bill to avoid a shutdown on Friday and faces another deadline in the week ahead, there is also fresh talk about a healthcare vote.
Commitments of Traders
Speculative net futures trader positions as of the close on Tuesday. Net short denoted by - long by +.
EUR -21K vs -22K prior GBP -91K vs -99K prior JPY -27K vs -30K prior CHF -17K vs -14K prior CAD -43K vs -33K prior AUD +43K vs +43K prior NZD -15K vs -15K prior
The market is getting increasingly aggressive in selling the Canadian dollar as USD/CAD and others breakout technically.
Act
Exp
Prev
GMT
Final Manufacturing PMI [F]
52.8
52.8
May 01 13:45
ISM Manufacturing PMI
56.6
57.2
May 01 14:00
PMI Manufacturing
55.5
May 01 13:30
PMI
51.4
51.2
May 02 1:45
Eurozone Spanish PMI Manufacturing
54.3
53.9
May 02 7:15
Eurozone Final PMI Manufacturing [F]
56.8
56.8
May 02 8:00
Latest IMTs