Intraday Market Thoughts
Political Calculus and Calamity
Theresa May's government hangs by a thread and a leadership challenge could come as soon as Tuesday. The reports of plots and discord put the pound at risk in the new week. Early moves put AUD lower on renewed US-China tensions. The new GBP trade is on.
Click To Enlarge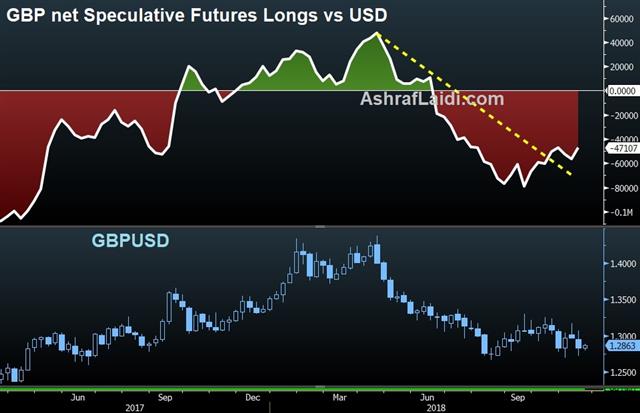 We often wonder whether the UK Conservatives are a political party or a group of individuals battling each other to bring down the Prime Minister. The party splintered once again this week after May unveiled an exit deal. The most-damaging blow came from Dominick Raab who quit after she unveiled the deal that he largely negotiated as Brexit minister. Raab then immediately pivoted to serenading the UK press with interviews and angling himself as a more-diplomatic Brexiteer than Boris Johnson.
He clearly believes a leadership challenge is coming. May likely believes that she can survive or avoid a challenge. All sides are counting votes with all outcomes dependent on roughly a dozen voters in the UK's 650-seat parliament.
The first question to answer is whether 48 Conservatives will write letters demanding a leadership challenge. If so, that would set off an automatic leadership challenge. So far, 26 letters have been made public. Raab has said he shall not write such a letter, and that may be a hint that he's unsure the threshold will be met. If it is, the UK press reports that Tuesday could be the day and that would immediately weigh on the pound. If the deadline passes, look for GBP shorts to cover.
The next question is if the 48 letters are produced, would Theresa May survive the vote of confidence? And if she loses it, would she resign or fight for her leadership in what may be a two-month contest that would whittle down the contenders to two names before the party membership is given a vote. At least a half-dozen Conservatives would have a chance to win, but do they have what it takes? It is one thing to criticize the lack of progress in Brexit negotiations, it is quite another thing to associate it with Theresa May's abilities as PM. And this fact is increasingly known.
What might motivate May to battle on is that if she survives a challenge she would have a full year before a fresh challenge could be mounted. Whether she wins or someone else takes her place, parliament will soon have a say in the deal and margins for a win are extremely narrow. A loss would raise a separate set of questions including an election, another referendum and a no-deal Brexit.
All those options add to the uncertainty discount in GBP but that final possibility is what would truly lead to another deep leg down in the pound.
Ultimately, that's still a remote possibility because it's such a needless self-inflicted wound that would likely doom the leader and the party in charge of it but the Conservatives are in a civil war and that could be the colateral damage.
In other weekend news, the APEC summit ended without a statement for the first time ever. Pence ramped up tension with China saying the US was prepared to more than double tariffs. Risk trades aren't like to respond positively to that with the Trump-Xi summit less than two weeks away.
Latest IMTs