Intraday Market Thoughts
Political Peril as Markets Open
Italian political surged after a Hung parliament ensured following the victory of the anti-migrant Leage party, while risks abated in Germany on the formation of a coalition govt. CFTC positioning data showed the crowded yen-short trade lightening up. After closing the DAX short late last week for 430-pt gain, there are 9 Premium trades currently in progress (6 in FX, 2 in commodities and 1 in indices). 7 in the green, 1 flat and 1 in the red.
Click To Enlarge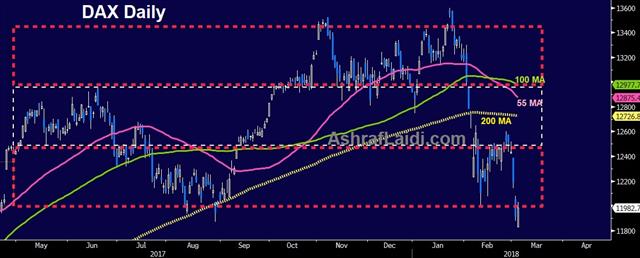 German SPD members approved a grand coalition with Merkel on Sunday and that clears the way for stability until 2021 but the new government will have its hands full as rumblings of a trade war grow louder.
Italy's Euroskeptic Five Star Movement and anti-migrant Leage won the bulks of of the results in this weekend's polls and seek to reach a coalition to form a new government. That's given the euro a bump early on but it will be hours before the official results are in. Headline risks in the days ahead will be high as party leaders attempt to form a stable government.
The bigger risk for markets is worsening trade rhetoric. US stocks rebounded late Friday in part due to hopes that Trump would add exemptions to steel and aluminum tariffs. A number of comments from high-ranking US officials on the weekend made that appear much less likely. In addition, Trump threatened to ban European car imports.
Over the past year, betting against risk assets because of turmoil in the White House has been a poor bet. The President has often appeared to be unhinged only to plod forward with more-traditional policies.
Is this time different? Perhaps, Trump has been a trade protectionist for more than 30 years and most of his advisors on international trade share his beliefs. Hints on what's coming next may come from personnel changes. Gary Cohn reportedly tried to convince Trump to back down on tariffs, and may well consider to step down. If so, markets will see it as a definitive turn in his administration.
CFTC Commitments of Traders
Speculative net futures trader positions as of the close on Tuesday. Net short denoted by - long by +.
EUR +138K vs +126K prior GBP +13K vs +8K prior JPY -97K vs -108K prior CAD +22K vs +23K prior CHF -16K vs -19K prior AUD +10K vs +12K prior NZD +1K vs -1K prior
The overstretched yen shorts we've been warning about for weeks have finally started to cover as USD/JPY hits 14-month lows.
Latest IMTs