Intraday Market Thoughts
Post-Retail USD Rebound, AUD Longs Grow
The US dollar shrugged off a soft retail sales and PPI reports on Friday. The yen was the top performer on Friday while the Aussie lagged. Early-week moves have been modest and include EUR strength and GBP softness. On Friday, the Premium GBPUSD short was closed at 1.2910 for 310 pt gain.
Click To Enlarge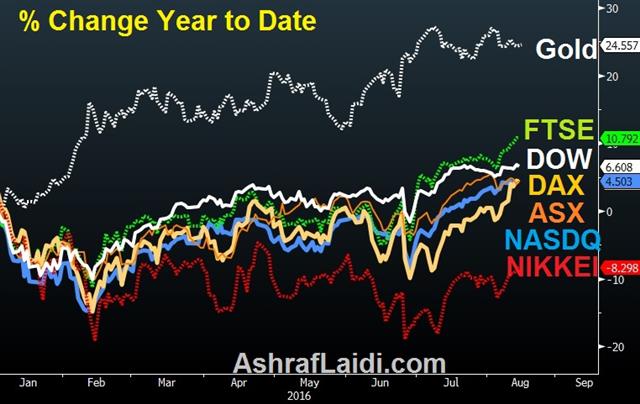 Moments ago, Japan's 2Q GDP rose 0.2% q/q vs an expected 0.7%. Private consumption roses 0.2% q/q and business spending fell 0.4% q/q vs the expected +0.2%.
The US dollar fell hard Friday on the retail sales headlines but recovered all the losses by the end of the day. That's a positive sign, especially against the pound, which sank close to fresh cycle lows. It also reflects a healthy view on the consumer overall. Sales were flat in the month but they have been solid all year and one of the few sources of US optimism. It would take at least another month of soft numbers to spook markets.
What might be more concerning is the PPI number. Inflation is the Fed's main frustration at the moment. Bullard continues to press for a new paradigm that accepts the low inflation environment rather than staying on guard against 'runaway' inflation that never seems to materialize.
In weekend news, a press report said the Brexit could be delayed until late 2019 to give government departments time to get ready. That could lend some support to the pound in the near term but it won't inspire any long term optimism (or confidence in government efficiency).
CFTC Commitments of Traders Forex speculative futures positioning. + denotes net long; - denotes net short
EUR -98K vs -104K prior GBP -90K vs -83K prior JPY +49K vs +42K prior CHF +0.1K vs -1.7K prior CAD -15K vs -18K prior AUD +35K vs +31K prior
AUD longs have risen to the highest since mid-May while the Aussie traded at the best levels since late April last week. The net long topped out at 60K earlier this year so it may yet be premature to worry about crowded longs. Still, the pullback late in the week and softness after US retail sales suggests some traders are looking to exit longs.
Act
Exp
Prev
GMT
Prelim GDP (q/q) [P]
0.0%
0.2%
0.5%
Aug 14 23:50
Latest IMTs