Intraday Market Thoughts
Powell Put?
More players in the market are looking for a dovish shift from Powell on Wednesday but comments from his counterparts suggests it's not likely. The US dollar strengthened Tuesday and there was talk of month-end flows. But today, GBP is the strongest of the lot. A growing sense that the Fed isn't ready to pause rate hikes. Powell speaks later (17:00 London time) in a highly-anticipated speech but those looking for something dovish will likely be disappointed. Powell will likely prove to be less hawkish than more dovish. And will he choose to stick to the script so as not to publicly show he is toeing Trump's line on interest rates? The Premium long in the DOW30 was closed at 24750 for a 390-pt gain. Revised US Q3 GDP data is due next. A new Premium trade in JPY will follow shortly.
Click To Enlarge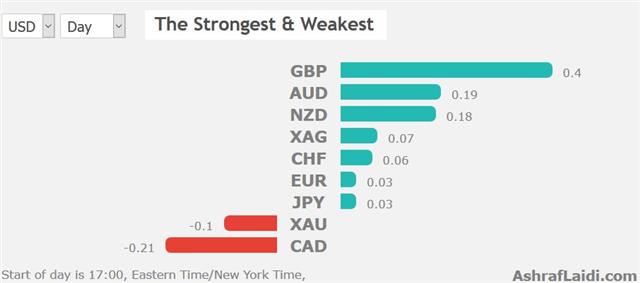 Vice Chair Clarida spoke Tuesday and offered only scraps for the doves. Headlines picked up on a line saying the Fed was 'much closer' to neutral but the full line was that they're now 'much closer to the vicinity' of neutral than they were in 2015. After 200 basis points of hikes, that's hardly groundbreaking. Meanwhile his speech touted the strength of the 'robust' economy and talked about accelerating wage grains and with fewer downside risks. But he also stated the need to remain data dependent at more than occasion.
It would be highly unusual for Powell's comments Wednesday to diverge from his deputy, especially since both are early in their terms. The financial media is fixated on the dovish scraps at the moment so there's some headline risk to the US dollar but the meat of the speech will drive the lasting move.
In politics Tuesday, a German report said Trump could put 25% tariffs on all auto imports to the US aside from Canada and Mexico. The move could come after the G20.
One take is that it would be a new phase of aggressive tariffs from Trump, including China after the G20. Another idea is that he likes to focus on one battle at a time and he will pivot away from stubborn China after the G20 and try to squeeze Europe.
Act
Exp
Prev
GMT
Fed Chair Powell Speaks
Nov 28 17:00
Eurozone ECB President Draghi Speaks
Nov 29 8:00
Prelim GDP (q/q) [P]
3.6%
3.5%
Nov 28 13:30
Latest IMTs