Intraday Market Thoughts
RBA Has a Tough Decision
The RBA is forced to weigh election uncertainty and the Brexit vote in today's decision. Trading was thinned by the US holiday on Monday but the commodity currencies rallied. Aussie retail sales and services PMIs from Japan and China are due ahead of the RBA decision. EURAUD Premium was stopped out at 1.48. A new trade in AUD will be issued ahead of the RBA decision, which is due at 4:30 GMT, 5:30 London time.
Click To Enlarge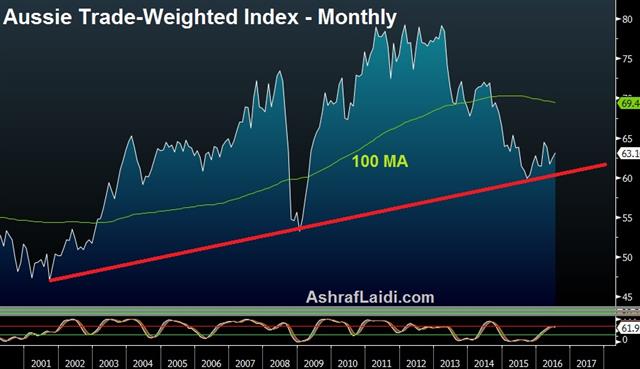 The Australian dollar has rallied in five consecutive sessions ahead of Stevens at 0430 GMT today. The OIS market priced as much as a 40% chance of a cut in the post-referendum fears but that has dwindled to 8.5%.
However, Stevens has the opportunity to surprise given the Brexit volatility and election uncertainty. Vote counting restarts today but a hung parliament remains the most likely outcome.
If the RBA doesn't move today, the market will be looking for signals about August. At the moment, OIS prices in a 53% chance of an Aug cut.
If that's to be the case, Stevens may want add in some guidance into the statement. The current language doesn't offer any clear hints about what the RBA plans to do next. The one factor that's likely to prompt a move is inflation, which the statement describes as 'quite low'.
The argument for continuing a wait-and-see stance is that economic data has been solid. The latest employment report was okay with 18K new jobs and 5.7% unemployment and credit continues to expand. The latest numbers on inflation expectations also rose and yesterday's MI inflation measure rose to 1.5% y/y from 1.0%.
Two final pieces of economic data arrived at 0130 GMT with May trade balance and retail sales. Those probably won't prove pivotal for the decision but they are certain to influence the guidance.
Technically, AUD/USD is in the middle of its three-month range but at levels the RBA has consistently frowned upon.
Overall, look for the RBA to maintain a wait and see stance but leave the door open to an August cut. It's early days in the post-election/post-Brexit world and they will want to assess further before acting.
Other data to watch includes the 0145 GMT Caixin China services PMI. It was previously at 51.2. Fifteen minutes later the Nikkei Japan services PMI is due. It was at 50.4 in June.
Latest IMTs