Intraday Market Thoughts
RBNZ Cuts, RBA Looks on
As the RBNZ delivered its widely anticipated 25-bp rate cut to 2.00%, NZD made the "expected" jump, before settling lower following dovish comments from RBNZ governor Wheeler.By asserting its concern with sustainable decline in inflation and greater than expected moderation in wage growth, the RBNZ has explicitly opened the door for additional easing in the coming months. As the statement failed to lower the value of the currency, Wheeler cleared the air by stating "we want to see the currency fall" as the cat-&-mouse game with the RBA continues with both central banks wanting to avoid excessive appreciation in their currencies.
Click To Enlarge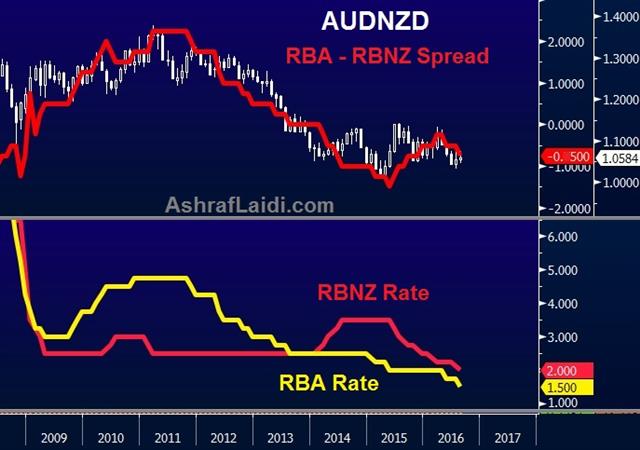 Both the NZD and AUD have proven risen markedly to the frustation of policy makers due to: i) stabilisation in commodities and China market metrics; and 2) Fed keeping rates unchanged. A rate cut of at least 25-bps this year from of the two each central bank is a foregone conclusion in the event of no Fed hike this year, while the macro dynamics as well as market sentiment in China will be instrumental in gauging the moves from the RBA. Another reason the RBNZ has little choice but to cut some more is the planned macro-prudential measures set for September by the RBNZ, aimed at slowing speculative interest in the hot housing market. Such move would remove a crucial obstacle to interest rate cuts and will keep the RBA-RBNZ battle for the lowers well alive.
Ahead of this evening's RBNZ move, we issued a tactical NZD trade in addition to the AUDNZD existing long.
Latest IMTs