Intraday Market Thoughts
Reopening Trade Takes Hold
It only takes a modest slowdown in covid cases to spark a big reversal in favour of risk trades.
Gold posted its biggest drop in nearly 3 weeks with the rise in real yields as XAUUSD failed at the technically crowded 1805/09 level
. NZD is again the top performer, closely followed by AUD and GBP, while JPY and CAD are the weakest. US July durable goods orders came in stronger than expected. The
chart below shows most major economies have seen negative economic surprises over the past 3 months, reducing the case for a Sep taper in the US or the UK
. The
Nasdaq short was stopped.
Click To Enlarge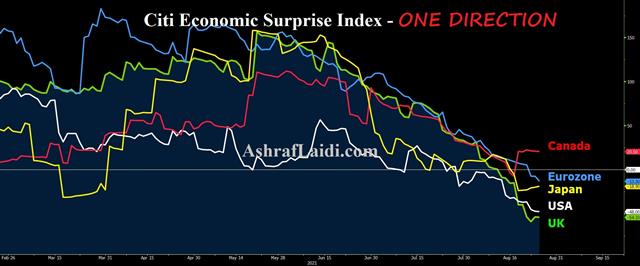 We highlighted a potential peak in US cases and shift in Fed tone early on Monday, a theme the market has run with to start the week. Commodity currencies led the way again on Tuesday and US equities hit another record high. Importantly, within the US equity space there was a decided reopening bent with casinos and hotels as the top gainers, while consumer staples and Pfizer lagged.
For now, the trade is all about positioning for a crest in covid cases and repositioning for the reopening. It's an opportunity bulls don't want to miss.
Given the strength of some of the reversals, the momentum in this trade could last for some time, especially if Powell stays dovish. Beyond that, the market may focus on the demand picture. There were some warning signs in a soft Richmond Fed Tuesday at +9 vs +25 prior but new home sales were slightly stronger.
Latest IMTs