Intraday Market Thoughts
Risk Aversion Remains, UK Courts Controversy
US election worries ebbed on Thursday but remain the dominant theme. The pound was the top performer after the BOE and a lower UK court ruled May can't unilaterally declare Article 50. Australian retail sales are due up next. The Premium trade in US Crude was closed at 44.90 after opening the short at 48.10. The Dax trade is currently +420 pts in profit.
Click To Enlarge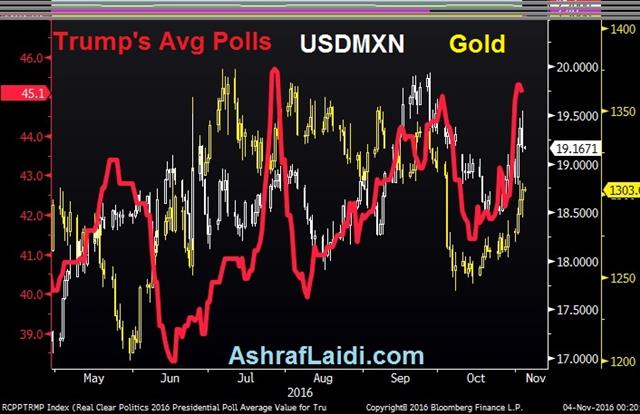 The market is struggling to price in the chances of a surprise Trump win. Betting sites now him at nearly a 33% probability but market pricing is much lower as traders continue to scrutinize the electoral map and the gambit that Trump will need to run.
US dollar trading was calmer but USD/JPY fell a quarter cent and the S&P 500 was lower for the eighth consecutive day. Oil had declined 10% in a week. Ashraf's Premium Insights has a short in USDJPY from 103.70.
Economic data was mixed. The ISM non-manufacturing PMI was at 54.8 compared to 56.0 expected. That's down from 57.1 previously but still at a healthy level.
Factory orders rose 0.3% compared to 0.2% expected. Initial jobless claims ticked higher to 265K compared to 265K expected; and Q3 nonfarm productivity rose 3.1% versus 2.1% expected as it broke a streak of three consecutive quarterly declines.
The trade remains reacting to the election headlines but we warn there is a high chance of risk aversion on Friday. There are rumours about a possible Wikileaks bombshell on Saturday and that's the kind of thing that would lead to a gap down in risk trades Monday. We think traders will be inclined to safety before the weekend.
The big market mover in Thursday trade was the pound as it rose more than 160 pips. Carney warned that the weak pound will drive inflation and the chance of another BOE cut in the next six months sank. UK courts added another element of uncertainty with a ruling that triggering Article 50 requires parliamentary approval. That will be quickly appealed to the Supreme Court but if it's upheld could ultimately open the door to a reversal in the referendum via another election or a second referendum.
Up next, the Australian dollar is in focus at 0030 GMT with the Q3 retail sales release. Sales are expected to rise 0.4% m/m.
Act
Exp
Prev
GMT
Services PMI
54.5
52.5
52.6
Nov 03 9:30
Final Services PMI [F]
54.8
54.8
54.8
Nov 03 13:45
ISM Non-Manufacturing PMI
54.8
56.2
57.1
Nov 03 14:00
Challenger Job Cuts (y/y)
-39.1%
-24.7%
Nov 03 11:30
Latest IMTs