Intraday Market Thoughts
Sluggish Inflation Standing in the Way
FX markets are quick to send USD down across the board after the release of the Jul FOMC minutes, as the discussions reveal no smoking gun for the hawks. US labour markets have grown unambiguously tight, but are they hot enough to warrant another rate hike when all key inflation measures continue to trend down? Aside from the Fed's preferred inflation gauge –Core PCE price index—standing at 1.6% as well as trendine lower, it continues to diverge away from the Fed's 2.0% target. The latest CPI and PPI figures have also moved lower as the charts show with the July data.
Click To Enlarge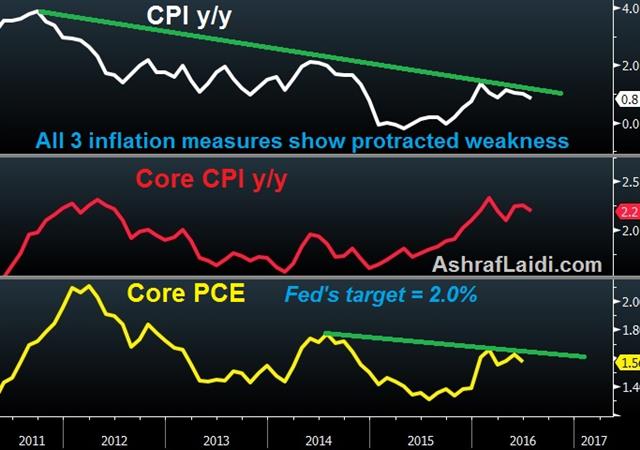 The minutes stated the FOMC was split with regards to Fed hikes as several members "… suggested that the committee would likely have ample time to react if inflation rose more quickly than they currently anticipated, and they preferred to defer another increase in the federal funds rate until they were more confident that inflation was moving closer to 2 percent on a sustained basis.". The more hawkish members said "…recent economic developments as indicating that labor market conditions were at or close to those consistent with maximum employment and expected that the recent progress in reaching the committee's inflation objective would continue".
We could also state USD strength and hesitant wage growth as the obstacles standing in the way of the next rate hike. Not to mention the 1-year breakeven forward rate of 0.41%, the lowest since October 2015. As long as those are barriers remain intact, alongside the uncertain banking sector in Europe and more question marks with China's credit machine, US inflation measures need to be flashing the all clear green signal, rather than a flickering orange.
Act
Exp
Prev
GMT
FOMC's Dudley Speaks
Aug 18 14:05
Eurozone Final CPI (y/y) [F]
0.2%
0.2%
Aug 18 9:00
Latest IMTs