Intraday Market Thoughts
SNB Catches a Break
Four days of big gains in EUR/CHF have led to a breakout in the pair as markets flash mixed signals on volatility. USD finally bounced Thursday and was the top performer while CHF lagged. US Q2 GDP is due next.
Click To Enlarge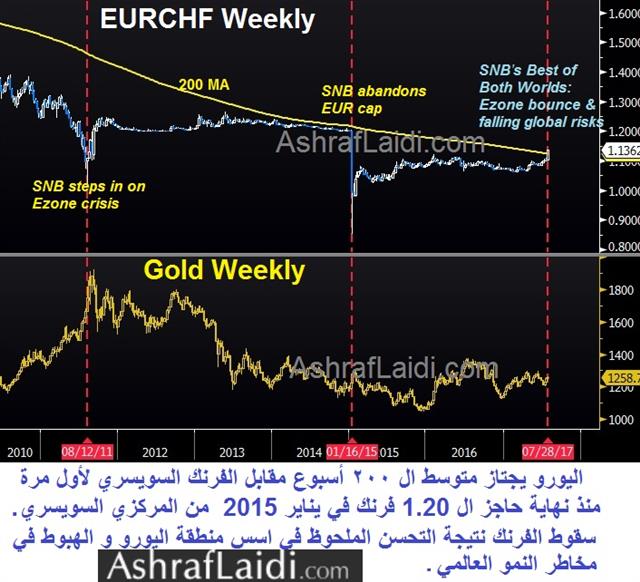 On Thursday, EUR/CHF traded at the best levels since the Swiss National Bank pulled the plug on the 1.20 floor. The pair climbed above 1.1200 in a three day move that's now exceeded 200 pips. In the bigger scheme of things, it's a vocal sign of abating Eurozone worries, in contrast to Draghi's cautious between-the-lines message as the ECB sends subtle hawkish signals.
On Wednesday, minutes before the FOMC headlines hit the wires, the ECB's Nowotny said it's time to reconsider policy because the risk of deflation is gone. He also said it was time to discuss the technical aspects of the end of QE, a subject that is often taboo.
Despite the tentative public statements, a hawkish shift from the ECB is months away at most. It's a different story for the SNB where a shift is a distant prospect. If the global growth story can continue, CHF remains an attractive funding vehicle for carry trades, which should keep it under pressure.
A continued rise in global growthm, however, is no guarantee. Markets briefly hit a round of risk aversion on Thursday NY Lunchtime as the volatility whip hit again in the aftermath of choppy moves in the bond market earlier this week.
Economic data helped to lift the US dollar as several second-tier data points pointed to the potential for an upside surprise in today's first look at Q2 GDP, expected at 2.7% from 1.4%. Personal Consumption Expenditure seen at 2.8% from 1.1%. Several banks raised forecasts by 0.3-0.4 percentage points. That kind of beat would be an opportunity for a further bounce in the dollar. Take note that the advanced GDP figures are incomplete and are subject to 2 subsequent revisions.
Act
Exp
Prev
GMT
FOMC's Kashkari Speaks
Jul 28 17:20
Latest IMTs