Intraday Market Thoughts
SNB in Focus, Euro Shorts Were Ripe
With the ECB in the rearview mirror we look ahead of the repercussions elsewhere. In early-week trading, CAD is marginally softer alongside oil. Weekly CFTC positioning data showed euro shorts rising ahead of the ECB decision. It was likely a sleepless weekend at the SNB. The Swiss franc was the top performer last week and now the pressure is on to response to ECB measures.
Click To Enlarge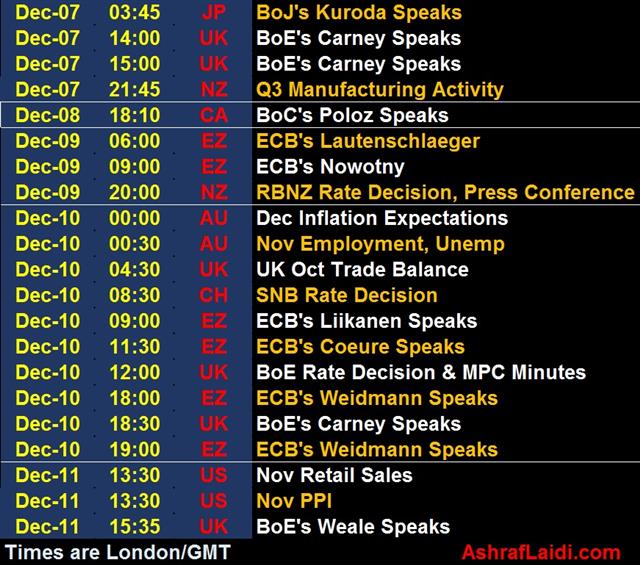 The SNB decision is on Thursday and some analysts have scaled back expectations for action because the ECB didn't deliver a euro-crippling package. Still, broader rise in the franc last week will concern the SNB. EUR/USD is trading at 1.08 when they were prefer to see it above 1.20. We will be keeping a close eye on headlines out of Switzerland in the lead-up to the decision.
On the weekend a Reuters report revealed that ECB hawks felt like Draghi was trying to corner them with his dovish tone last month. Instead of bowing, they dug in their heels and with the backing of staff forecasts that were little changed, Draghi didn't even table a seriously dovish proposal.
The euro opened the week flat at 1.0885 but the volatility is surely unfinished.
Commitments of Traders
Speculative net futures trader positions as of the close on Tuesday. Net short denoted by - long by +.
EUR -182K vs -175K prior
JPY -75K vs -77K prior
GBP -28K vs -32K prior
AUD -47K vs -57K prior
CAD -39K vs -39K prior
NZD +5K vs +4K prior
This week's data showed the largest euro short position since May 5 as traders bet on Draghi delivering. Looking ahead, the dollar long position is high across the board and after the ECB surprise, speculators may be feeling a bit less comfortable ahead of the Fed, especially with US economic data slipping
Latest IMTs