Intraday Market Thoughts
Sterling Sparks up as Hard Brexit Backs Down
Sterling roars back to regain the 1.32 level for the first time since October as Labour shakes up Brexit negotiations with a plan to call an amendment blocking a no-deal Brexit and calling for a second vote. GBP is now the strongest currency YEAR-to-date, MONTH-to-date and week-to-date. Traders turn to Fed chair Powell's testimony later on today, shedding light on when and how it will end the sale of its $4 trillion balance sheet later this year. The Premium long trade in cable is now over 150 pips in the green one week after we highlighted our decision to lower the stop from 1.2800 to 1.2740. The Premium video will be sent to subscribers ahead of the NY Close.
Click To Enlarge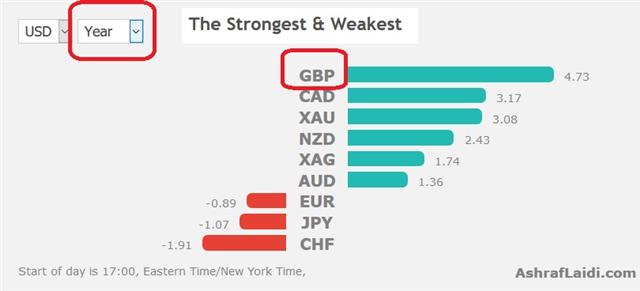 We're now clearly into the endgame of the Brexit divorce deal drama and the major pieces are being put into play. The final battle is beginning to be the two major party leaders against their own parties as both face insurrections from those ostensibly worried about a no-deal Brexit but who are pushing for no deal at all.
The resignation of 7 Labour MPs last week clearly shook Corbyn as he contemplates a U-turn on policy where Labour would support a second referendum. That threatens outrage on the Brexit wing of his party where around 25 members of his party will refuse to support it.The by-product of Corbyn's move is that it could spark a rethink among Conservative hard liners who may soon decide that taking the current deal is better than risking a re-vote.
May is facing the same pressures from pro and anti-Brexit factions in her party and a push to extend/abandon Article 50.
It is becoming increasingly clear that parliament will never allow a no-deal Brexit. Most members of the House of Commons and House of Lords are furious at the reality that we are less than one month away from the official Brexit date of March 29 and no deal is in sight. But that means the possibility of a last minute agreement on Brexit grows larger than the possibility of a no-deal Brexit as the clock ticks away. And that is of course, a positive for the British pound. The next step is a cabinet meeting where they will discuss extending Article 50. That could trigger further sparks in GBP volatility.
Latest IMTs