Intraday Market Thoughts
Stocks Rocked, Yen Wins
The wall of worries finally sent stocks crumbling on Wednesday. The yen was the main beneficiary in FX while the pound was the laggard. China CPI is up next with all eyes on the short-selling ban. The latest deterioration in Canada data sent the Premium long in EURCAD to +130 pips, while EURAUD is 120 pips in the money. A new CAD pair has been added to today's Premium for the first time since end of March, supported by 3 key charts in the Premium Insights.
The bounce in markets late Tuesday was quickly unwound. Greece remains in a difficult position and progress is slow but global growth worries were a larger concern Wednesday. Chinese stocks fell 5.9% yesterday and commodities are under growing pressure.
Confidence was further undermined by a 3 hour outage in the NYSE and the S&P 500 fell 1.7% to close below its 200-day moving average for the first time since October.
The Fed Minutes struck a dovish tone with most meeting participants still skeptical that the data is good enough to warrant hikes. The latest developments in China and Greece will no-doubt test their resolve to hike in September.
A final note on today's trading is the outperformance of the euro despite worries about Greece and Merkel expressing disappointment. It underscores the euro's role as a carry funding currency (like the yen). That's a dynamic that's still in its infancy but could last for years.
Later, the focus will continue to be on China where policymakers banned short-selling stocks for six months. The government and PBOC are increasingly likely to act, especially if a relief rally is short-lived. The CPI report due at 0130 GMT is expected to rise 1.3%, which leaves officials with plenty of room to act.
Click To Enlarge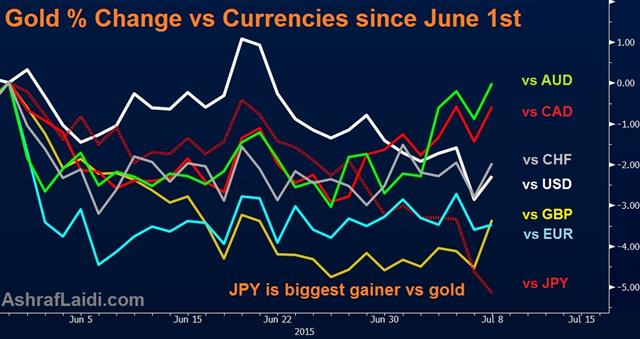 Act
Exp
Prev
GMT
Consumer Prce Index (JUN) (m/m)
-0.1%
-0.2%
Jul 09 1:30
Consumer Prce Index (JUN) (y/y)
1.3%
1.2%
Jul 09 1:30
Latest IMTs