Intraday Market Thoughts
New Supply is Coming Home
Is new bond supply coming come? First of all,
big congratulations to our Italian and Argentinean readers
for this weekend's victories and
comisserations to England and Brazil
. The bond market spooked everything else last week but once the fever broke, risk assets rebounded and the dollar gave back ground. That's created a tentative truce but with 3 and 10-year Treasury auctions on Monday, the action will pick up again. The
US dollar starts the week on a high note
, stronger against all major currencies, with EUR and CHF the smallest decliners and CAD and AUD are the weakest. The yen was the top performer last week while the Canadian dollar led the way.
Click To Enlarge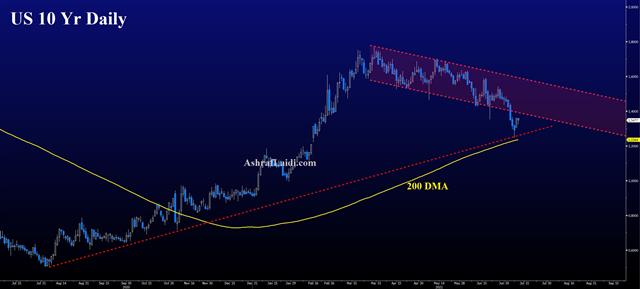 It will be a slow start to the week in G10 FX on account of a multitude of hangovers in London.
The economic calendar is generous to football fans with little on the agenda in terms of economic data. The event to watch will be the 1300 GMT sale of 10-year notes.
One of the theories about the drop in yields last week was a lack of new supply due to quirks on the Treasury calendar and the looming debt ceiling. That will be relieved with $38B on sale in a reopening followed by $24B in 30s on Tuesday.
Recent sales have been strong but that was +15 bps ago. Whether it's lower or higher yields, expect the sale to set the tone for the week.
The other move that caught markets off guard last week was China's cut to the RRR. To be sure, officials foreshadowed the move but most China-watchers thought they were teeing up a move in late summer. For the real economy, a sooner move and one that delivers it to all banks (rather than rumored small banks) is undoubtedly stimulative. The risk is that it hints at panic or an economy that's slowing too quickly. So far the market reaction has ben positive but the Chinese consumer has been surprisingly sluggish and that could eventually spook global markets.
Latest IMTs