Intraday Market Thoughts
Tariffs Trip Up Dollar
Stocks tumbled and the US dollar followed after Trump finally announced harsh trade tariffs. The euro was the top performer while the US and Australian dollars lagged. Japanese CPI and comments from Carney are up next. The Premium trade shorting DAX30 was closed at 12040 from 12470 entry for a 430 pt gain. Several alternative options on locking gains were shared to subscribers.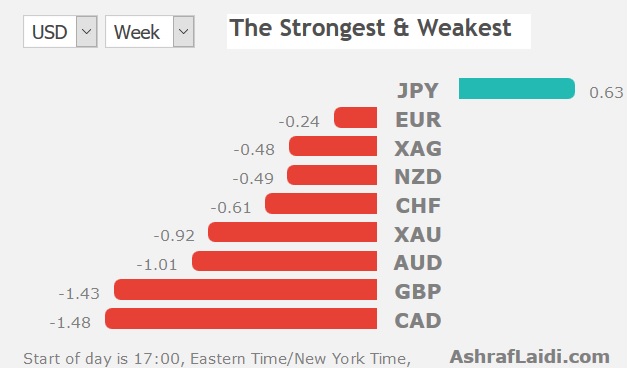 Earlier this week we wrote about the US twin deficits. Many analysts have emphasized that they are a large and growing problem. We don't dispute that, but an even bigger problem reared its head on Thursday: How Washington will react to those deficits.
We got a taste of the answers on Thursday after Trump announced that he will use national security provisions to slap tariffs on steel and aluminum imports. The duties on imported steel will be 25% and they will be 10% on aluminum. Trading partners have already said they're planning to take counter-measures.
The move by Trump shouldn't come as a huge surprise – he's been threatening it throughout his time in office. But there was some hope that his words were hollow and that he could be convinced otherwise.
The growing fear in markets is that this is just the start of a trend. Risk aversion hit for the third day as the S&P 500 fell 36 points to 2677. The US dollar slumped on the news across the board. In particular, USD/JPY sank down to 106.20 and is now less than 100 pips from the February low.
Aside from yen strength, the FX market will likely struggle with how to deal with anti-free market measures from Washington and the threat of a trade war.
At the same time, the Fed is trying to navigate mixed signals. The PCE report was in-line with expectations aside from a 0.1 pp beat on personal income. Core PCE inflation was just 1.5% y/y and has been below target on a year-over-year basis in 96 of the past 100 months. However there are some positive signs with 3-month annualized inflation hitting 2%.
More notably, the ISM manufacturing index rose to 60.8 compared to 58.7 expected. That's the highest since 2004 and the commentary in the report was littered with anecdotes about capacity shortages. Prices paid rose to the highest since May 2011.
It was also the second day of testimony from Powell and it had a slightly-more dovish tinge with an emphasis on low wage inflation. Still, he continued to express confidence that prices and wages will rise.
Elsewhere, Japan will get a look at CPI numbers for Tokyo at 2330 GMT. The consensus is for a 1.4% y/y rise but that falls to 0.5% y/y excluding fresh food and energy. Monetary base data is due 20 minutes later. Another event to watch is an appearance from Carney at midnight GMT in Edinburgh.
Act
Exp
Prev
GMT
Monetary Base (y/y)
9.2%
9.7%
Mar 01 23:50
Latest IMTs