Intraday Market Thoughts
Tax Reform Shadows Elections
Angela Merkel wins her fourth term as chancellor but with the lowest victory margin she ever attained over her last 3 previous elections. The euro gapped lower, now testing 1.1850 as it awaits Draghi's speech at 2 pm London time. NZD remains the weakest currency since the start of Monday Asian trade after Saturday's inconclusive election outcome clouds the coalition-building process. CFTC positioning data showed a race away from cable shorts. Japan PM Abe will dissolve the lower house of parliament to call early snap election for Oct. 22, 14 months ahead of schedule. But the week's bigger market driver in FX could be US Congress decision on taxes.
Click To Enlarge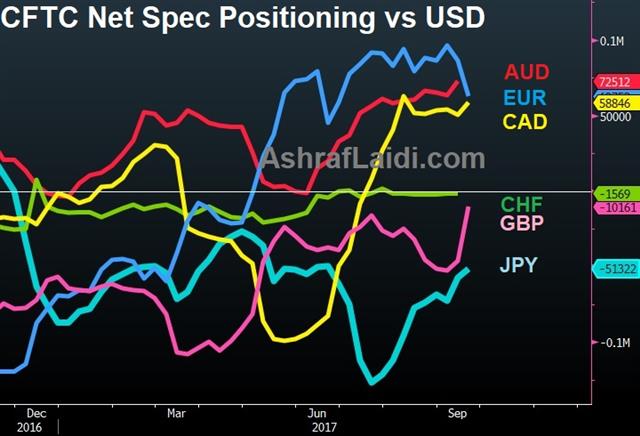 The other story we are watching closely is US tax reform. Weekend leaks suggest the Republican proposal to be released this week includes a corporate tax cut to 20% from 35% and a small business rate at 25% compared to 39.6%. The US tax code is so littered with loopholes that the fall isn't as dramatic as it seems but if it's successful it could still be a big boost to US growth and the US dollar.
More than the details, we will be watching for the reaction from Congress to gauge the likelihood any kind of reform or stimulus will be passed. We will also watch to see if cuts – especially to individuals – are made retroactive to the start of the year. That could mean a quick stimulus.
CFTC Commitments of Traders
Speculative net futures trader positions as of the close on Tuesday. Net short denoted by - long by +.
EUR +62K vs +86K prior GBP -10K vs -46K prior JPY -51K vs -57K prior CHF -1.5K vs -2K prior CAD +59K vs +50K prior AUD +72K vs +63K prior NZD +7K vs +12K prior
It's the second week in a row of fewer longs in EUR and far fewer shorts in GBP. The race out of sterling shorts came after the Bank of England decision and rip higher in the pair. The more-balanced market suggests the potential for quick gains from here is limited. AUD longs are beginning to get crowded but not yet dangerously so.
Latest IMTs