Intraday Market Thoughts
The only Thing worse than Dovish Talk
…is dovish talk with a deadline to act. That's what Draghi delivered on Thursday when he said the ECB will re-examine the degree of accommodation at the Dec 3 meeting. The euro was easily the worst performer while commodity FX led. The China Caxin manufacturing PMI is on a number of economic calendars but it won't be released in the hours ahead. The EURUSD Premium Insights short wad stopped out as well as one of the two DAX shorts. A new note has been added on GBPCAD and USDJPY.
Click To Enlarge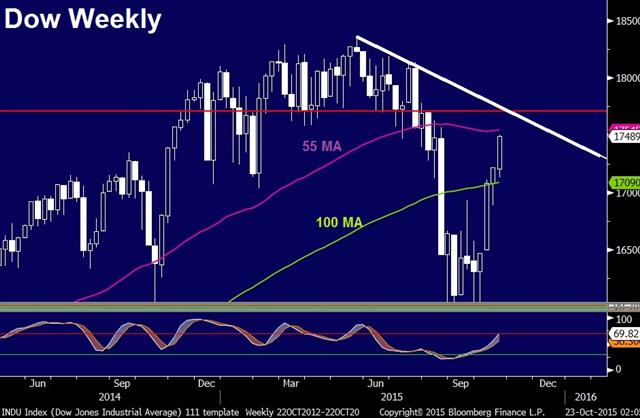 Adding a time element to when the ECB will act makes it especially hard to buy the euro. It gives shorts a target date that's six weeks away. Draghi didn't promise to ease but he's an experienced central banker who chooses his words carefully. The market will expect an expansion of QE to 70-80 billion euros per month from 60 billion euro and, perhaps, a 10 basis point cut in the deposit rate.
The type of surprise he delivered tends to last, especially with the way the euro cut through the 200-day moving average after already falling 200 pips on the day. The modest sizes of intraday bounces were also evidence of a market with few willing buyers.
The winners on more ECB easing aren't only euro crosses. The European bond market absolutely cheered the news, driving Spanish yields down 15.5 bps to 1.48% -- a level that would have been unthinkable a few years ago. The transmission mechanism to corporates isn't as strong in Europe but rates that cheap are very good news for European equities and SMEs.
Gold held steady in US dollar terms but climbed higher elsewhere. Opening the door to more QE underscores the desire of central bankers to print and inflate. That's good news for hard assets.
The market will undoubtedly be less volatile as the week winds down and that may lead to some consolidation. One element that will remove some volatility is the discontinuation of the Caixin (formerly HSBC) manufacturing survey. It was one of the few trusted, private economic data points and no reason was given for its cancellation shortly after Caixin acquired the rights to it. It leaves us further in the dark about China's economy.
Yesterday there were rumors that Chinese government agencies would halt stock market intervention but a late rally showed that may not be true. We'll be watching closely Friday.
Act
Exp
Prev
GMT
Markit Manufacturing PMI (OCT) [P]
52.8
53.1
Oct 23 13:45
Eurozone Markit PMI Composite (OCT) [P]
53.5
53.6
Oct 23 8:00
Eurozone Markit PMI Manufacturing (OCT) [P]
51.8
52.0
Oct 23 8:00
Eurozone Markit Services PMI (OCT) [P]
53.5
53.7
Oct 23 8:00
Latest IMTs