Intraday Market Thoughts
The Thing About the Future
Abraham Lincoln said, "the best thing about the future is that it comes one day at a time." For US Congress the days are ticking away but markets aren't yet perturbed. All currencies are off against the USD with the exception for GBP as traders wait BoE Deputy Governor Ben Broadbent's speech (more below).
Click To Enlarge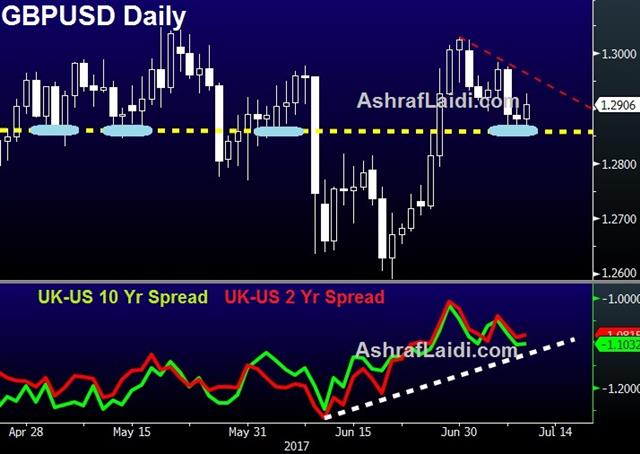 Congress returned from a week of holidays on Monday and are scheduled to stay in session until July 28 before a five-week holiday kicks in. As the days tick away, it's increasingly likely that nothing gets done.
So the questions are: What's at stake and when is the deadline? Markets have priced in some level of healthcare reform, tax cuts and infrastructure spending. The post-election rally in stocks was boosted by the belief it's coming so you have to assume at least 5% of the S&P 500 is tied to that and roughly 500 pips in the dollar.
The deadline is trickier. The only real deadline on the horizon is the mid-term election on Nov 6, 2018 when the entire House is at stake and 33 of the 100 Senate seats. If healthcare and tax reform aren't done at this time next year, then they've surely run out of time. Working backwards, somewhere between December of this year and April of 2018 is the window where Republicans need to get something done. Until then, the squabbling probably doesn't sting markets because even though it's delayed, you can still assume it's coming.
BoE's Ben Broadbent's speech at 8:30 EST (13:30 London) will be widely followed by gilt and GBP traders owing to the the increasingly contentious views inside the Monetary Policy Committee. Broadbent was among the 5 members voting for no change in rates last month versus 3 members wanting a rate hike. Although It is expected that Broadbent will stick to his dovish stance, traders are not assuming anything, as any hawkish ouvertures would be instrumental in propping up gilt yields and sterling. Currently, markets are pricing a 60% chance of a BoE rate hike this year.
Latest IMTs