Intraday Market Thoughts
The Virus and the Economy
Florida grabbed headlines to start the week with a 15,300 new cases; that's the highest of any state since the pandemic began. But below the surface there are signs of optimism. See our note our
weekly reminder on virus reporting patterns
below. Silver and gold are leading against USD, while GBP and JPY lag. We also cite a
recent recurring pattern in USD/CNY
below.
US index futures are up after Pfizer and BioNtech got fast track
status for 2 of their vaccine drugs. CFTC data showed more speculators buying the euro. Below is the performance for
FX and metals against the USD since the start of the month.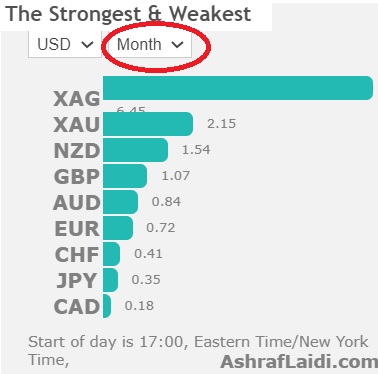 US handling of the virus has undoubtedly been a failure but the trend in the virus in other developed countries shows it can be tackled. Ultimately, the US will get there and took a big step on Saturday as the President wore a mask publicly for the first time.
In terms of data, the Florida number also wasn't as bad as the headline. The 35% jump in cases came on a 60% increase in the number of tests. As a result, the positivity percentage fell to 11.25% from 12.6%. In Arizona, Texas and California there are early signs of a leveling off in cases and people are undoubtedly practicing better social distancing.
While hospitalizations and deaths will likely rise through month-end, there is a narrow window for the US to lower cases enough by September to successfully open schools.
Pfizer also stoked some weekend optimism with the pharm company's CEO saying a vaccine could be approved in October. After a 1% gain on Friday, S&P 500 futures started the week higher.
The challenge for traders (especially those trading off indices) is to manoeuvre between the news of rising US virus cases and improved chances of finding an effective vaccine. The Premium Insight's WhatsApp Broadcast Group capitalised on Thursday's dip in indices and subsequent Friday bounce here.
With regards to FX, Ashraf is cautioning on the Chinese yuan's rally past the 7.0 level (USDCNY drops below 7.0), sugesting a key inflection point in the USD's next leg down. Recall how last year the 7.00 resistance in USD/CNY proved a stubborn barrier in the face of USD bids, until its break helped paved the way for rapid USD gains against most of currencies.
The focus will remain on the virus Monday with a very light economic calendar. Be advised that most states tend to report the weekly low in virus numbers on Mondays due to weekend testing bottlenecks. That's a factor the market should be better at pricing in but it continue to work.
CFTC Commitments of Traders
Speculative net futures trader positions as of the close on Tuesday. Net short denoted by - long by +.
EUR +104K vs +98K prior GBP -16K vs -21K prior JPY +17K vs +24K prior CHF +4K vs +4K prior CAD -17K vs -21K prior AUD -1K vs -3K prior NZD 0K vs 0K prior
Euro longs dropped 20K two weeks ago but had a small bounce last week. Aside from that position, the speculative market is reluctant to pile into anything.
Latest IMTs