Intraday Market Thoughts
Three Thoughts as 2015 Winds Down
Decent-sized market moves continued again on Wednesday despite fading liquidity. The Swiss franc put underscored its strong performance this year as it was the best performer while the kiwi lagged. The calendar is light in Asia-Pacific trading expect for Australian private sector credit. فيديو العربي التوصيات القائمة و المحتملة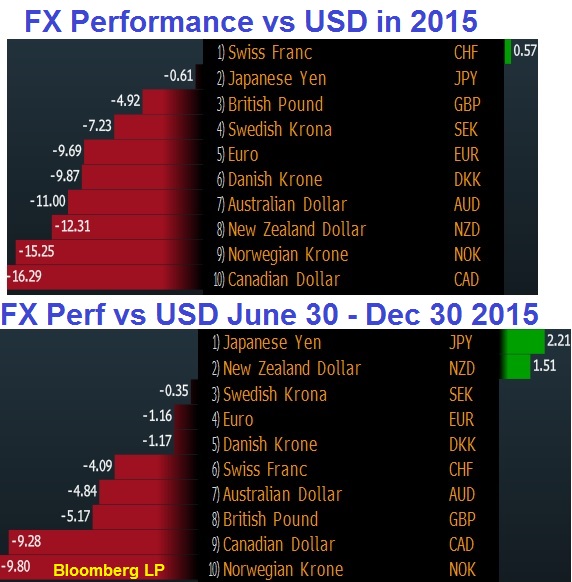 Here are three things to keep in mind as the calendar rolls over:
1) It's the time of year when it's best to be disliked
The most crowded trades at the start of the year tend to be the ones that go the most badly. Median forecasts of currency strategists surveyed by Bloomberg suggest AUD will fall 5% next year and NZD will drop 8%.
2) What a flat year for stocks means
The S&P 500 is virtually flat on the year after a 0.7% decline Wednesday. It closed at 2063 compared to 2058 on Dec 31, 2014. What does a flat year mean? The past seven times the index has finished the year with a up or down by 3% or less, it climbed the following year. In those seven instances, it gained the following year by an average of 17.8%.
For a 21-year study of performance in 11 currencies, 7 equity indices and 14 commodities, please see our performance chartbook here.
3) Iran is set to turn on the taps
Sanctions on Iran will be lifted on January 5 and they've promised to increase exports by 500K bpd immediately and another 500K bpd in six months. They plan to continue investing in more production in order to maximize sales. A paradigm shift has taken place in the Middle East. Leaders believe the end of oil is in sight and want to sell it all as soon as possible. Oil at $37 is tough but below $30 is when the real pain hits.
Looking to Asia-Pacific trading, the final economic data point of the year from Australia is due at 0030 GMT as November private sector credit is due. It's expected to rise 0.6% m/m with housing credit up 9.7% y/y. It's not likely to be a big market mover as trading in 2015 winds down.
Latest IMTs