Intraday Market Thoughts
Trade War Mutes NFP Trifecta
The week ahead begins with rising tensions between China and the US with a warning from Beijing that a deal to buy more US goods is off the table if Washington imposes metals tariffs. Friday's trifecta of beats in US jobs (NFP, earnings and unemp rate) failed to garner any considerable USD rally as the trade tensions weighed on USD sentiment. CFTC data show specs crowding into CHF shorts. A new JPY trade was posted to subscribers, supported by 3 charts and a quadruple confluence.
Click To Enlarge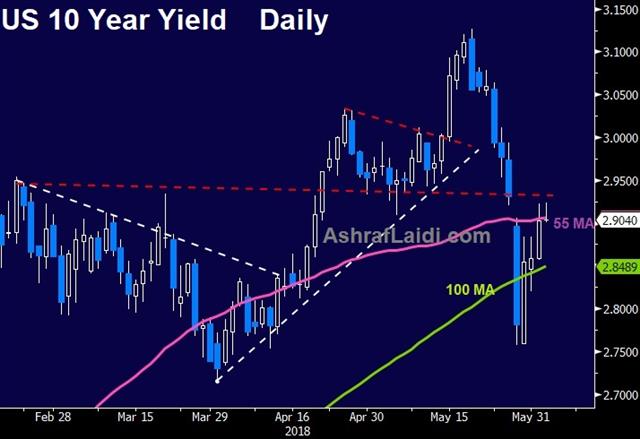 Risk trades rebounded on Friday as the market brushed off US tariffs against the EU, Mexico and Canada but the trade story isn't going away with China and the US in intense talks. Commerce Sec Ross left China after two days of without securing a deal but officials cited some positive progress.
Perhaps prophetically, Xinhua reported that all recent bilateral agreements won't take effect if the US adopts tariffs on China. The ebb and flow from discussions could set the tone in the week ahead along with the G7 meeting in Canada.
On Friday, non-farm payrolls were strong with beats on jobs, unemployment and wages securing a Fed hike on June 13. Comments from Williams and Brainard also suggested guidance will be tweaked to remove references to accommodative policy.
CFTC Commitments of Traders
Speculative net futures trader positions as of the close on Tuesday. Net short denoted by - long by +.
EUR +93K vs +110K prior GBP +9K vs +6K prior JPY -8K vs -4K prior CAD -24K vs -28K prior CHF -43K vs -36K prior AUD -21K vs -23K prior NZD -1K vs +2K prior
Swiss Franc net shorts are the most-extreme since 2007 as the market bets on a rise in USD/CHF. That trade has been going in the other direction for the past month and June is a strong seasonal month for the franc. Other seasonal June trends include weakness in global equities, mild euro strength and modest USD softness.
Act
Exp
Prev
GMT
Eurozone Spanish Unemployment Change
-83.7K
-105.7K
-86.7K
Jun 04 7:00
Latest IMTs