Intraday Market Thoughts
Turkey Votes, China Beats & US Misses
Turkey voted for 'Yes' in a Constitutional referendum that's another sign of how Europe is fragmenting. The yen was the best performer last week while the US dollar lagged. China's Q1 GDP rose 6.9% y/y, exceeding consensus expectations. Mounting bank and non-bank credit was largely behind the advance in industrial production. CFTC positioning showed shrinking USD/JPY longs.
Click To Enlarge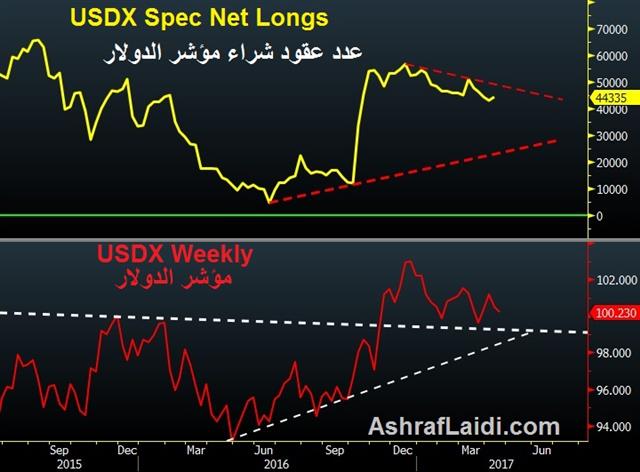 Turkish President Erdogan won 51.3% of the votes in a broad referendum that will concentrate more power in the executive and seriously jeopardizes Turkey's changes of ever joining the EU. The result was widely expected and means Erdogan could stay in power until 2029. His campaign argued on the need for stability after a coup failed last July.
The EU was quick to respond with a delegate to Turkey saying talks to join the EU will be formally suspended if the Constitutional changes are passed in full.
In the short term, the clear result has led to some early minor TRY strength but in the long-term the result highlights, once again, that Europe is in retreat. Whether the contraction will continue or broaden will depend next on the results of France's election.
Meanwhile, it's the US dollar that's in retreat at the moment. A strong consumer and rising inflation are the backbones of the Fed's hawkish stance. But on Friday, CPI and retail sales both missed estimates.
Much of the world was on holiday Friday so the numbers weren't likely fully factored into the market. In addition, many markets will remain closed Monday.
Commitments of Traders
Speculative net futures trader positions as of the close on Tuesday. Net short denoted by - long by +.
EUR -19K vs -11K prior JPY -35K vs -46K prior GBP -106K vs -100K prior CHF -10K vs -14K prior AUD +45K vs +50K prior CAD -32K vs -30K prior NZD -15K vs -15K prior
The yen short has been trimmed to the narrowest since December as USD/JPY trades at the lowest since mid-November. The pair slipped on Friday and is nearing the 61.8% retracement of the post-election rally.
Latest IMTs