Intraday Market Thoughts
USD Firm Into The Fed
Across-the-board US dollar buying on Tuesday came in anticipation of a Fed hike but if/when the Fed moves, will the money last? The dollar trailed only the kiwi as the top performer on the day while sterling lagged. The Japanese manufacturing PMI from Nikkei is due later. There are 3 GBP shorts out of the 6 existing Premium trades ahead of tomorrow's other big event --the UK jobs and earnings figures.
Click To Enlarge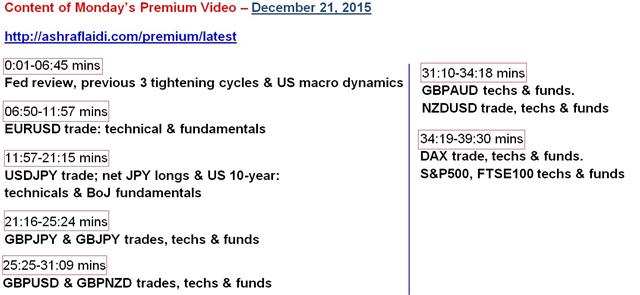 US CPI data on Tuesday had mixed messages for the Fed. Headline CPI rose 0.5% y/y, slightly above the 0.4% expected. Core CPI also matched expectations at 2.0% y/y, up from 1.9% in October. On the flip side, wage growth remains in a rut with real weekly earnings down 0.2% in the month compared to flat forecast.
We suspect pre-Fed positioning was more of a factor in the dollar's rise on the day than the data. A steady bid boosted USD by roughly the same 0.65% against the euro, yen, pound and Australian dollar. That kind of broad-based bid highlights potential pre-Fed positioning. The following is the Table of Contnet for this week's Premium Video Analysis.
It may simply be a case of speculative flows looking to capitalize on a jump in the dollar on an expected Fed hike. If so, expect profit taking afterwards unless the Fed is especially hawkish. Aside from the Fed outcome, statement, dots and press conference, we will be eager to follow the technical aspects of the hike.
The FOMC may remove its $300 billion daily cap on overnight reverse repos as it attempts to boost the interest rate on $2.6 trillion of excess reserves at the Fed. Libor, the repo market, bonds and the effective Fed funds rate will all be closely watched and if the rate hike isn't smooth, it may bring turmoil.
In the hours ahead, the Asia-Pacific calendar is light. The lone release of note is the Nikkei Japan manufacturing PMI at 0135 GMT. The prior reading was 52.6.
Act
Exp
Prev
GMT
Markit Manufacturing PMI (DEC) [P]
52.7
54.0
Dec 16 14:45
Eurozone Markit PMI Composite (DEC) [P]
54.2
54.2
Dec 16 9:00
Eurozone Markit PMI Manufacturing (DEC) [P]
52.8
52.8
Dec 16 9:00
Eurozone Markit Services PMI (DEC) [P]
54.1
54.2
Dec 16 9:00
Eurozone CPI (NOV) (m/m)
-0.1%
0.1%
Dec 16 10:00
Eurozone CPI - Core (NOV) (m/m)
-0.2%
0.2%
Dec 16 10:00
Eurozone CPI (NOV) (y/y)
0.1%
0.1%
Dec 16 10:00
Eurozone CPI - Core (NOV) (y/y)
0.9%
Dec 16 10:00
Average Earnings excluding Bonus (OCT) (3m/y)
2.3%
2.5%
Dec 16 9:30
Average Earnings including Bonus (OCT) (3m/y)
2.5%
3.0%
Dec 16 9:30
Fed's Monetary Policy Statement and press conference
Dec 16 19:30
Latest IMTs