Intraday Market Thoughts
USD/JPY Train Keeps Rolling
Not even a US holiday could halt the momentum of the US dollar against the yen. The pair has now risen in 12 of the past 15 days and Japanese CPI is due later. The Australian dollar was the top performer on the day despite dismal construction numbers. 8 Premium trades remain in progress; 3 of which in FX, 4 in equity indices and 1 in commodities.
Click To Enlarge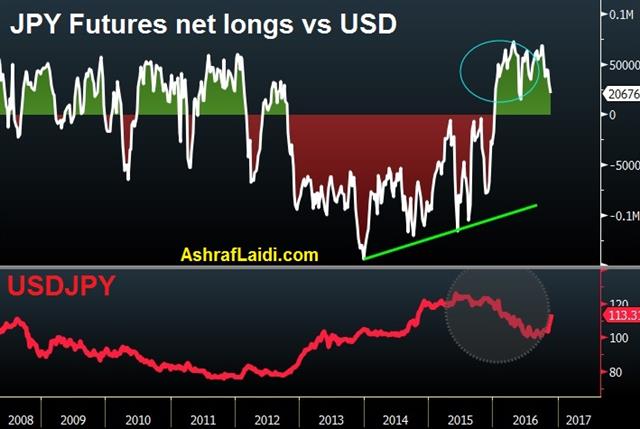 The temptation ahead of any holiday is always to assume that profit taking and position squaring will lead to a retracement. The reality is usually the opposite as the flows that drove the move continue to work in a less-liquid market.
USD/JPY rose another 80 pips on Thursday with US traders out for Thanksgiving. The bulk of the move came in Asia as 113.00 broke in flurry that topped out at 113.53. What might have been even more impressive was that the move retraced early in Europe but the bidders returned throughout the rest of London and New York trade to finish at 113.25.
Every trend ends and a retracement will come but we look first for some kind of blow-off squeezed-out top or technical levels. The rally Thursday took out the 50.0% retracement of the June 2015 to June 2016 decline and that targets the 61.8% level at 115.61. That's also close to the 2015 and early 2016 lows.
On a risk/reward basis, it's late in the day to be buying USD/JPY but there is also no signal to sell yet. As we wrote about yesterday, we continue to watch for a shift in risk sentiment led by China and the weakening yuan. Alternatively, a Trump misstep or signs of a trade way would be damaging.
For the day ahead, the US remains on a de facto holiday but there is advance trade goods balance data due out that often moves the US dollar.
Elsewhere, yesterday's number on Australian construction work raised serious questions about Q3 growth. Economists have trimmed 0.5-0.7 percentage points from forecasts and that may take the quarter into negative territory.
Today's Asia-Pacific highlight is at 2330 GMT when Japan releases October CPI numbers. The consensus is for a 0.1% y/y rise in CPI ex food and energy. That's still a long ways from the BOJ's target and adding a slight slope to the yield curve isn't going to be the trick to get back to 2% growth.
Act
Exp
Prev
GMT
Tokyo Core CPI (y/y)
-0.4%
-0.4%
Nov 24 23:30
BoJ Core CPI (y/y)
0.3%
0.2%
Nov 25 5:00
Latest IMTs