Intraday Market Thoughts
USD Reverses, AUD Jobs Next
Signs that better post-election confidence is beginning to translate into growth sent the US dollar initially higher but other questions reversed the move. The New Zealand dollar was the top performer while the pound lagged. The Australian jobs report is due up next. A new metals trade has been added to the Premium Insights, supported by three charts & details, bringing the number of commodity trades to three.
Click To Enlarge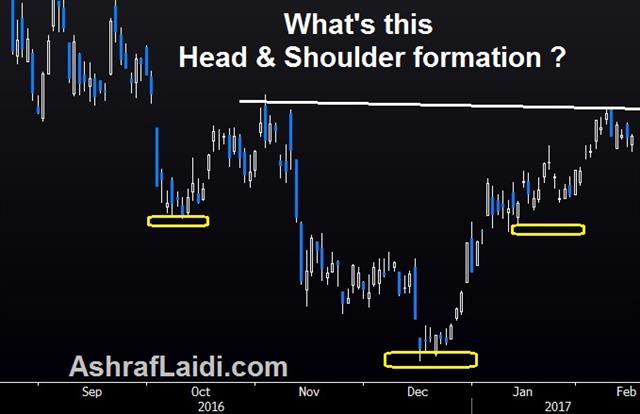 The general arc of an improving economy is that sentiment surveys improve first. That's followed by hard data but not always. Sometimes economic confidence fades and the expected growth pickup never materializes.
The US dollar rallied along with sentiment after the election but it stalled in part due to unease about whether better confidence would turn into growth. Hand-in-hand with that was uncertainty about what the new administration would deliver.
In the past week, Trump's 'phenomenal' tax plan offered a signal that real political action was coming and hard data has begun to improve. Today's January retail sales report was the best evidence yet. Ex-autos and gas rose 0.7% compared to a flat reading expected. The December report was also revised higher.
Along with that report, CPI beat estimates and the Empire Fed was at 18.7 compared to 7.0 expected. Initially, the US dollar surged as the probability of a March Fed climbed above 40%.
But there are signs the market has unanswered questions. A big one is wages as January year-over-year real wages were flat compared to a 0.8% rise in December. That's the kind of statistic that offers the Fed plenty of opportunity for patience. In addition, higher CPI is largely an artifact from the oil price recovery and that will slowly run off.
Finally, not all the data was good with January industrial production down 0.3% compared to a flat reading expected.
The US dollar began to reverse and went on to fall 50-80 pips from its peak. Overall, the data is still trending in the right direction but the market still has questions and there are also worries about the White House policy on a strong dollar. For now, this might just be a blip but it demonstrates how conflicted the market is on the US dollar. Meanwhile, it's full steam ahead for stocks as the S&P 500 hit a record in the sixth day of gains.
One chart that appears to be breaking out is AUD/USD as the bulls finally took 0.7700. But it could be a short-lived victory if today's jobs report struggles. The consensus estimate is for 10K new jobs with unemployment flat at 5.8%. If the numbers are strong, however, expect a break of the Nov 8 high of 0.7778 in what would be a 10-month high. The data is due at 0030 GMT.
Act
Exp
Prev
GMT
Retail Sales (q/q)
1.1%
0.9%
Feb 16 21:45
Employment Change
9.7K
13.5K
Feb 16 0:30
Latest IMTs