Intraday Market Thoughts
USD Stays Firm, RBA Caps AUD
Aussie is the biggest loser since the start of Asia's Tuesday session after the RBA reiterated its neutral stance, disappointing those who were anticipating a more upbeat upbeat after the hawkish chorus of the last 2 weeks from the ECB, BoE and BoC. USD secures its firm tone after Monday's strong ISM figures. US is on holiday for Independence Day. Ashraf's webinar today on Bitcoin & Cryptocurrencies is at 7pm GMT, 8 pm London time.
Click To Enlarge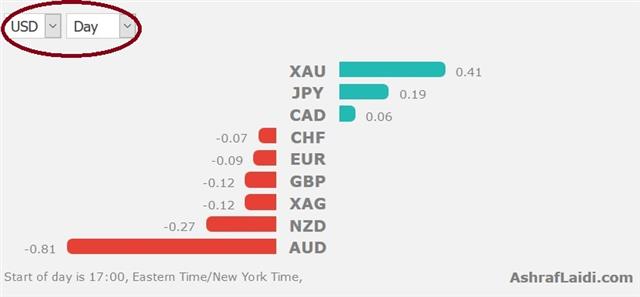 The ISM June manufacturing index beat expectations to send USD/JPY to a six-week high on Monday. The index was at 57.8 compared to the 55.2 consensus and 54.9 prior. The details of the report were a microcosm of the USD conundrum this year. Subindexes on orders and employment were strong but prices paid fell to 55.0 from 60.5.
Those positive US figures also contrast with weak auto sales. The Autodata numbers for June showed the slowest pace since Feb 2015 and underscored announcements of longer summer shutdowns this year. Ford said sales had likely peaked.
Later on Monday, ECB "sources" continued their efforts to try to undo the latest moves in the euro and eurozone yields. ECB officials are increasingly seeing the yields developments as a mini taper-tantrum and the report cited six officials who said they were having second thoughts about removing the easing bias at the July 20 meeting. Once again the market was reluctant to sell the euro on the headlines. That underscores the enthusiasm for the euro in recent weeks.
Another source of enthusiasm was the continuing V-shaped recovery in oil. Crude was up for the eighth consecutive day and edged above the 50% retracement of the May-June decline.
Gold continued to break down on Monday, but this morning is faring relatively well. Yet, the break below the 200-day moving average remains worthy of note as the 4th of July Holiday is out of the way and we near the US jobs figures.
A big reason for the decline in gold is the sudden synchronous hawkishness from central banks and the rise in REAL bond yields (relative to inflation), noted here.
Latest IMTs