Intraday Market Thoughts
USD Strength 'Transitory' on FOMC, BoE Next
The Fed statement and press conference sent markets in different directions on Wednesday but eventually helped to clarify the underlying stance. NZD and Aussie are at the top of the day's FX perfomers, JPY and CHF are the only losers vs USD. The Bank of England decision is up next. A new Premium trade has been issued to subscribers.
Click To Enlarge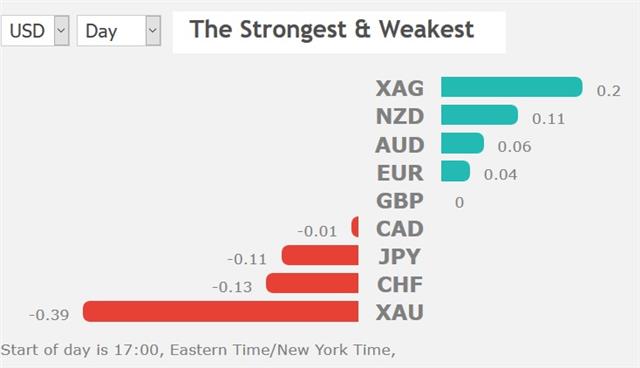 The Fed decision Wednesday unfolded just as we anticipated in yesterday's IMT. The cut to IOER and statement was interpreted as mildly dovish by the market and the initial reaction in the US dollar was lower. However, as we warned, Powell used the statement to lean against the idea of cuts and the dollar quickly reversed.
Powell twice repeated that the FOMC doesn't see a strong case for moving in either direction on rates and said that data so far this year had unfolded largely as expected. Importantly, he dismissed low inflation as 'transitory' and forecast a return to target.
On the whole, market pricing of a 68% chance of a Fed cut by year end remains aggressive and out-of-step with what the Fed has been signaling. For that to unfold it would take a deterioration in economic data. Indeed, that's partly what unfolded earlier Wednesday as the ISM manufacturing index surprised by falling to the lowest since 2016. Construction spending also fell 0.9% compared to a flat reading anticipated.
The Bank of England decision could unfold similarly to the Fed. The statement may contain a growth bump from 1.4% and Saunders could also dissent in favor of a hike. Both would lead to some immediate sterling gains. Nonetheless, those may unwind in Carney's press conference if he stresses global and European growth concerns along with never-ending Brexit concerns.
Latest IMTs