Intraday Market Thoughts
What Happened at the G20?
The Fed squandered much of its hawkish rhetoric Wednesday and market participants continue to ask 'why?' (as they sell the US dollar). If you look at the recent turns in markets many of them can be traced back to late February. It's no coincidence that's when G20 leaders met in China. GBPUSD was stopped out and EURUSD was closed at a profit, leaving us with 4 Premium trades in progress.
Click To Enlarge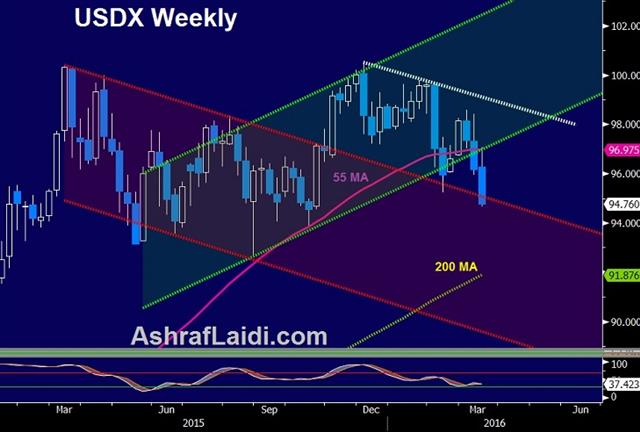 We take a closer look at the events since the G20 ahead of a relatively quiet end-of-week session in Asia-Pacific trading.
The day after the G20 meetings China lowered the RRR by 50 basis points in a surprise move. The government followed that up by loosening property lending and creating a TARP-like program to buy bad loans. Shortly afterwards the ECB unveiled a larger stimulus package than almost anyone expected. The RBNZ surprised with a rate cut and now the Fed has abandoned any pretense of hawkishness. Next week the Canadian government will announce a major stimulative budget
The idea that G20 leaders sat down and decided to do more isn't a conspiracy. Ideas like that are what meetings like the G20 are for.
Alone, each central bank decision can be justified but a pattern is forming and it's one we will continue to monitor.
In the shorter-term, the market continues to reel from the Fed decision. The US dollar slumped across the board and only stabilized after USD/JPY fell to a 15-month low of 110.75 and then abruptly jumped to 112.00. There was talk of intervention but a newswire source said Japanese officials had only called around to try and figure out what happened.
US economic data modestly positive. Jobless claims and JOLTS posted a slight beat while the Philly Fed was strong at +12.4 vs -1.7 expected.
Looking ahead, data on Chinese property prices are due at 0130 GMT. It's followed at 0530 GMT by Japanese department store sales. A speech from the RBA's Luci Ellis stuck to regulatory policy and did not touch on monetary policy or the Aussie.
Act
Exp
Prev
GMT
Fed's William Dudley speech
Mar 18 13:00
Federal Reserve Bank of Boston President Rosengren Speech
Mar 18 15:00
Fed's Bullard speech
Mar 18 18:00
Latest IMTs