Intraday Market Thoughts
Yellen Dovish, Cold Feet Coming
Janet Yellen maintained an uncertain tone in her Congressional testimony Tuesday. The New Zealand dollar was the top performer while the yen lagged. We also look at the shape of GBP in the final countdown to the Brexit vote. As per this week's Premium video, 1 set of trades will be issued ahead of the UK refrendum.
Click To Enlarge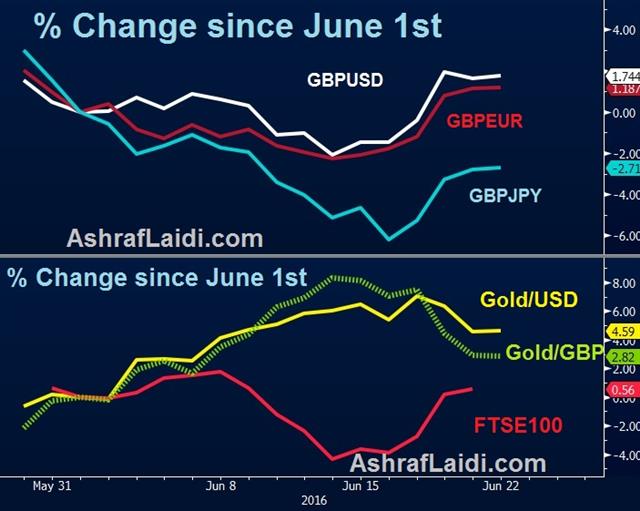 We learned a few things from Yellen's Humphrey Hawkins testimony Tuesday. The overall tone was dovish but the shift compared to the FOMC press conference was small enough to be ignored by a market that's fixated on the Brexit vote.
The market continues to price in a 10% chance of a July hike and 30% in September. Even if we assume the 'remain' side wins the Brexit vote, those numbers seem too high.
Yellen was extremely cautious and repeatedly emphasized the uncertainty surrounding Fed forecasts. Even a series of strong economic numbers through July won't be enough to shift that view and it's highly unlikely to change before September.
After listening to Yellen, it's clear that the case for a rate hike relies on consumer spending. Jobs, business investment, inflation and growth have all disappointed but the latest indications are that the consumer is healthy. Even if that continues, the Fed will need more evidence from those other categories before moving. If the consumer begins to falter, the market will begin to ask if the next move will be a cut.
Of course, the entire financial world could be turned on its head in Thursday's Brexit vote. ORB is out with its final poll and predicts Remain will win 54-46%. That's in line with what markets and betting sites have been flashing this week.
However, there seems to be a small shift back to leave unfolding. Boris Johnson had a strong performance in the final debate and flash polls showed most viewers thought the Leave side was more convincing.
In the past three trading days the market has piled into the remain camp and there is now scope for a 'cold feet' trade before the results. ORB, for instance, is assuming that 3 of every 4 undecided voters will opt for remain. We agree but the risks of being wrong are now massive compared with the rewards of being right. Given that imbalance, the cable risks are to the downside but, like we said in our Brexit playbook, the trade is to go with the short-term momentum in an illiquid market.
The Asia-Pacific calendar is light except for Australian skilled vacancies at 0100 GMT but it will be overshadowed by Brexit flows.
Latest IMTs