Intraday Market Thoughts
Yen Sends Warning Signal
The yen took a bite out of the rest of the foreign exchange market on Wednesday to cap off a strong month. JPY was the top performer while the pound sterling lagged. Aussie is the worst performer in early Thursday Asia after weaker than expected capex data. All eye turn to Thursday's release of the US Jan core PCE price index, expected unchanged at 1.5%. A new trade in CAD cross has been posted & sent to Premium subscribers moments ago.
Click To Enlarge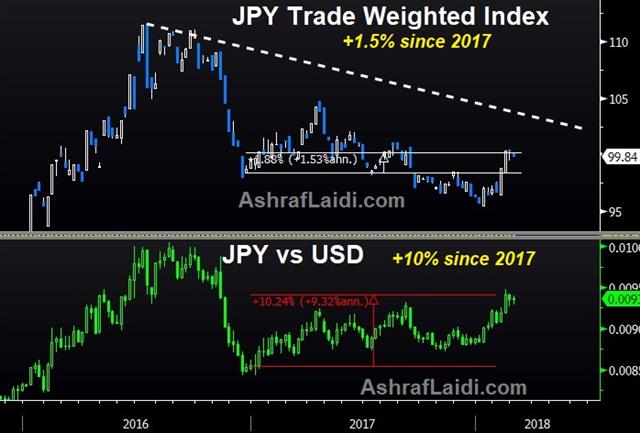 A calm settled over markets in the past two weeks but if the moves in the US dollar and yen are any indication, more trouble could be brewing. A rally in the yen Wednesday preceded a 30 point drop in the S&P 500. The index finished on the lows for the second straight day.
Technically, there were breaks all over. GBP/JPY fell below the 200-day moving average and the February low. EUR/JPY also hit the lowest since September in a sharp fall.
Against the US dollar, the euro, GBP and Canadian dollar also broke the February lows as they erased the recent bounces. The pound was the biggest Wednesday loser amid snags in the Brexit deal flare up, particularly the Irish border.
Economic data wasn't a major factor as the estimate of Q4 GDP dipped to 2.5% from 2.6%, as expected. One concern was in pending home sales as they fell 4.7% compared to a 0.5% rise expected.
One refuge of the bulls is that Wednesday was month-end and that flows could skew the market moves. However, we remind them that they said the same thing at the end of January, only to be beaten up in the first month of February.
Looking ahead, the Asia-Pacific calendar is buys with several Japanese releases including capital spending, corporate profits, the PMI from Nikkei, consumer confidence and vehicle sales. Those will offer a solid look at the path of the economy.
Aussie is down across the board after private capital expenditure data showed firmes planned to spend AUD $84bn in 2018-19, vs AUD $86.5bn expected, while spending in Q4 fell 0.2% vs exp +1.0%.
Act
Exp
Prev
GMT
Capital Spending q/y
4.3%
3.1%
4.2%
Feb 28 23:50
Chicago PMI
61.9
64.2
65.7
Feb 28 14:45
Final Manufacturing PMI [F]
55.9
55.9
Mar 01 14:45
PMI Manufacturing
55.9
Mar 01 14:30
Eurozone Final PMI Manufacturing [F]
58.5
58.5
Mar 01 9:00
Consumer Confidence
44.9
44.7
Mar 01 5:00
Private Capital Expenditure (q/q)
-0.2%
1.0%
1.9%
Mar 01 0:30
Latest IMTs