Posted Jul 6, 0:31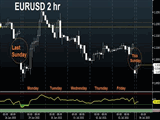 5 hours ago:
Greeks have rejected the Troika bailout proposal. The euro is down 1.5 cents in early trading and markets are sure to be roiled for days. BOJ's Kuroda speaks later but all the focus will remain on Greece.
The tally is nearly complete and shows 61.5% of Greeks voting 'No' in a solid rejection of another round of austerity and a massive win for PM Tsipras. Polls were much closer in the days ahead of the vote but fear about a Grexit failed to materialize and voters showed they were fed up with failed austerity programs.
Read More...
PREMIUM INSIGHTS
Update: Jul 10, 18:31

What to do with GBPUSD Trade?
We issue a new trade on GBPUSD with 3 supporting charts as the existing trade nears our stop. Trade & charts found here
LATEST ARTICLE
May 22
Intermarket convergence: Bunds, Oil, USD, EUR
The latest technical picture in intermarket dynamics suggests the USD is not yet ready to regain the positive momentum of the recent months, but the stabilisation path for oil, euro, bond yieds...
HOT-CHART
Apr 30
Bailing out of DAX & Dehedging EURUSD
Wednesday's 378-point collapse in Germany's DAX-30 index—a 3.2% drop, was the biggest in a single day since the eruption of the Spanish/Italian debt crisis in June 2012.
Dollar Damaged on Jobs Report
Jul 2, 2015 23:20:
Soft nonfarm payrolls data and a weak factory orders report kept the US dollar under pressure Thursday. The Swiss franc was the top performer while the Aussie lagged. Australian retail sales are due up next.
Our Premium long AUDNZD hit its final 1.1400 target from the 1.1040 entry of June 11 . EURCAD breaks out of 200-DMA congestion after surviving neckline support, now +125 pips in the green.
Read More...