Posted Jul 29, 0:49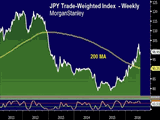 12 hours ago:
The highly anticipated Bank of Japan decision is due around 22:00-23:00 Eastern (03:00-04:00 BST/London) and is expected by most analysts to issue a set of broad measures: i) raise annual JGB purchases to JPY 90-100 trn from JPY 80 trn, ii) boost ETF purchases to JPY 4.0-4.5 trn from JPY 3.3 trn, iii) cut policy rate from -0.1% to -0.3% to -0.4% and; iv) cut the interest rate on reserves. This is not the first time that the majority of economists polled by Bloomberg and Reuters expect such aggressive measures. So why this time?
Read More...
PREMIUM INSIGHTS
Update: Jul 29, 2:45

Closing USDJPY for now
Closing USDJPY short at 104.25 (instead of the stated 99.10) from the 106.35 entry, for 210-pt gain ahead of the BoJ decision. Another trade awaits fill. Trades section.
PREVIOUS NEWS
Fed Upbeat & Outsignalled
Jul 27, 2016 22:31:
The short message from the FOMC was: "We like the economy but we're done making promises". The dollar was whipsawed on the announcement; the euro was the top performer and yen lagged. A low-key Asia-Pacific calendar is ahead as the BoJ looms.
Read More...
Don't Depend on Fed, Aussie CPI Next
Jul 27, 2016 0:23:
The Fed's longstanding commitment to data dependency will be put to the test at Wednesday's FOMC decision. The yen was the top performer Tuesday while the Swiss franc lagged. A pivotal Australian CPI report is due next. A 3rd yen trade was added last night.
Read More...
HOT-CHART
Mar 03
مؤشرات الأسهم الخليجية
Performance of Gulf Bourses since oil's August top . مؤشرات الأسهم الخليجية التغير المئوي منذ ذروة النفط في أغسطس 2015 ..