Posted Sep 20, 14:22
| | |
| --- | --- |
| Retail Sales (m/m) | 1.0% |
| Current Account | -0.62B |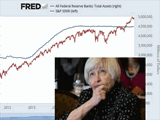 4 hours ago:
Choppy USD trade ensues ahead of today's highly anticipated Fed announcement, Yellen conference and dot plot forecats. The antipodean currencies dominate trading, led by a soaring kiwi as NZ's ruling National party pushes wirg a 9-pt lead ahead of Saturday's elections. UK retail sales beat expectations and US existing home sales fell by more than expected. New trade actions and videos will be posted this afternoon ahead of the Fed's announcement.
Read More...
PREMIUM INSIGHTS
Update: Sep 13, 17:30

New EURUSD Trade
New Premium trade in EURUSD
صفقة جديدة على اليورو مقابل الدولار الأميركي
Full trades & charts
The Reluctant Hawk
Sep 18, 2017 23:11:
Mark Carney cast himself as a less-enthusiastic hawk on Monday while the BoC flexed its jaw muscle. The US dollar was the top performer while the Canadian dollar lagged. The RBA meeting minutes are due out later.
Read More...
The Strongest & Weakest
LATEST ARTICLE
Aug 17
Euro Moves Far from Brutal
Earlier today, euro suffered a minor bump on the release of the minutes from last month's ECB Governing Council policy meeting, which revealed growing concerns with a possible overshoot in...
HOT-CHART
Aug 24
US Stocks Sector Performance
In comparing the year-to-date sector performance for the S&P500 to that of 2016, the 2 most striking developments is the reversal in energy stocks from best performer in 2016 to the worst so...