Posted Oct 31, 18:33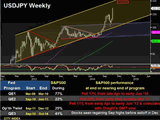 19 hours ago:
2 after the Fed exited quantitative easing, the Bank of Japan surprises the markets by expanded its own QE and unleashing a fierce wave of buying in global equities. What happens next? Full charts & analysis.
Read More...
PREMIUM INSIGHTS
Update: Oct 30, 19:44

Closing GBPUSD Shorts
After we issued the order to reaffrim our GBOUSD shorts 1 day before the Fed decision, we are aclosing both of GBPUSD shorts at 1.6000-1.6005, as we deem the current targets slightly too low. A total of about 210 pips has been achieved. Full trades & charts here
PREVIOUS NEWS
Inflation Could be the Dollar's Worst Enemy
Oct 30, 2014 23:17:
Economists were quick to poke holes in a strong US GDP report but it's the inflation picture that should be in the spotlight. The kiwi was the top performer Thursday as it defied RBNZ jawboning while the yen lagged. Up next it's the Japanese CPI report and the BOJ decision. In
the Premium trades
, both GBPUSD shorts were closed prior to reaching their final targets, attaining a combined profit of at least 210 pips. AUDUSD and NZDJPY shorts as well as longs in USDCHF remain in progress. US GDP rose at a 3.5% pace in the preliminary Q3 report, beating the 3.0% consensus. The dollar jumped 30 pips across the board but the gains were almost immediately erased and the dollar continued to fall throughout the day.
Read More...
5 Reasons for the USD Rally (and Why it May Continue)
Oct 30, 2014 0:08:
The US dollar surged around 90 pips right across the board after the Federal Reserve statement. We look at what exactly was behind the buying and what it means for the US dollar next.
Premium subscribers emailed us about GBPUSD & AUDUSD and NZDJPY shorts as well as longs in USDCHF have seen their gains expand, following last night's Premium note calling for sticking with GBPUSD shorts, which currently net more than 200 pips.
1. A 'significant' change
Read More...