Posted Dec 5, 11:11
| | |
| --- | --- |
| Challenger Job Cuts (y/y) | Dec 05 12:30 |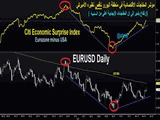 9 hours ago:
It's impossible to separate fact from fiction with all the noise in the China-US trade talks, but a report this week was notable for an intriguing detail. CAD and GBP are leading the gainers for the 2nd consecutive day, while NZD powered ahead after the RBNZ confirmed rates would remain on hold. The two-day OPEC meeting gets underway today. US jobless claims and durable orders are due next. Below is the chart highlighting the improving correlation between EURUSD and the Eurozone-US spread of their respective economic suprises, using Citi econ suprise index.
Read More...
PREMIUM INSIGHTS
Update: Dec 3, 10:30

2nd Trade of the Week
2nd Premium Trade for the Week w/ 5 Charts
صفقة ثانية للأسبوع مساندة بخمسة مخططات و التفسير بالعربي


Full trades & charts
PREVIOUS NEWS
GBP Breaks out, USD Hurt
Dec 4, 2019 14:38:
Broadening USD selloff after the US ADP survey on pvt sector payrolls posted its 2nd biggest decline in 3 years, falling to 67K from 121K vs an expected 135K. Broad GBP strength exploited USD selling to hit the 1.31 for the 1st time in 7 months. The latest swings in economic data highlight the opacity in the global economy in the second half of 2019. As USDX breaks below its 100 DMA, Aussie slides after GDP. The BOC decision and ISM non-manufacturing are due up next (see more below.) The English Premium video is posted below, recoding during the release of the ADP, focusing on the latest FX and index trades.
Read More...
Time for the Pre-Santa Selloff
Dec 3, 2019 12:55:
Equity indices extend Monday's selloff after pres Trump widened his verbal tariff attacks on France and weighed the possibility of delaying a China deal til after the US elections. AUD is the strongest of the day after the RBA left rates unchanged and headed to a long holiday break with an opportunity to wait and see vis-a-vis the trade war. GBP hit $1.30, now up 1.9% on the year as the 2nd best performing currency behind CAD, which is up 2.4% vs USD. USDJPY extended its downfall, after failing a major quadruple confluence. (more below). CFTC positioning highlights the large net-negative position in NZD. A 2nd Premium trade has been issued earlier today after 2 key indicators used in the Premium Insights maintained their functionality during last week's run-up.
Read More...
The Strongest & Weakest
HOT-CHART
Nov 18
A Perfect Indicator?
Those who have shorted equity indices over the past 3 weeks (like I have) were simply wrong.