Posted Mar 22, 21:41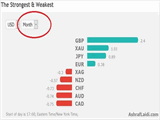 9 hours ago:
A series of waivers of US steel and aluminum tariffs eased trade worries on one front but escalated them on another on Thursday as stock markets were battered. The yen was the top performer while the Australian dollar lagged in a classic risk-off move. Japanese CPI is due up next. The Premium DAX30 short was closed at 11980 for 360 pt-gain.
Read More...
PREMIUM INSIGHTS
Update: Mar 21, 18:40

Post Fed GBP Trade
New GBP Trade
صفقة جديدة على الاسترليني
PREVIOUS NEWS
Why the Dollar Sank on the Fed
Mar 21, 2018 22:06:
The market expected something more hawkish from the FOMC on Wednesday. Instead, the dot plot continued to show three hikes and the US dollar stumbled. In early Asia-Pacific trading, the RBNZ left rates unchanged. A new Premium GBP trade was issued. Here is a tweet posted 7 hours before the Fed decision.
Read More...
The Strongest & Weakest
LATEST ARTICLE
Aug 17
Euro Moves Far from Brutal
Earlier today, euro suffered a minor bump on the release of the minutes from last month's ECB Governing Council policy meeting, which revealed growing concerns with a possible overshoot in...
HOT-CHART
Mar 20
Rare Quarterly Dow Doji
The quarterly candle on the Dow Jones Industrials Average shows a rare long-legged doji, one of the most striking reversal signs in candlestick analysis. Full Analysis..