Posted Jan 17, 11:51
| | |
| --- | --- |
| Retail Sales (m/m) | Jan 18 09:30 |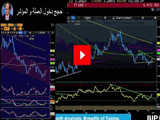 Jan 17:
The pound turns stronger and less volatile. PM Theresa May's government survived a confidence vote yesterday, as widely expected. The latest GBP bounce is emerging after optimistic DUP comments regarding today's talks with May. Consolidation was the theme in the broader market but yen crosses made some headway into Thursday. Euro regains 1.14 , while gold forms a bullish pennant. Yesterday's release of US retail sales did not happen due to the ongoing govt shutdown. We turn to the Philly Fed survey, expected at 9.5 from 9.4 (currently the weakest since Aug 2016). Yesterday's two Premium trades have been filled and are in progress.
فيديو المشتركين يفسر صفقتي أمس
Read More...
PREMIUM INSIGHTS
Update: Jan 16, 17:00

Getting Back in
Trading what works
صفقة جديدة على نموذج النجاح
GBP Solid ahead of May's Vote
Jan 16, 2019 12:59:
Do all roads lead to an extension of Article 50? Or do they lead to a soft Brexit? Theresa May's meaningful Brexit vote failed in spectacular fashion and she will face a confidence vote later this evening (from the whole Parliament and not by only her Party as was the case last month). Cable whipsawed before and after yesterday's vote, as it sank to 1.2670 only to rebound to 1.2870. Earlier today, BoE governor Carney said the pound's recovery reflects reduced chances of a no-deal Brexit. The Brexit saga is far from over. A new trade for Premium subscribers was posted earlier this morning and sent out 2 charts & 4 supporting notes. A GBP trade is likely to be issued around the close of the London cash stocks session.
Read More...
The Strongest & Weakest
HOT-CHART
Jan 17
أداء العملات مقابل الذهب
أداء العملات مقابل الذهب يشير الينا ان الين اقوى عملة و الكندي الأضعف كما نشاهد التحسن الملحوظ في اداء الإسترليني منذ بداية العام.