Posted Nov 22, 22:03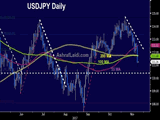 11 hours ago:
The main catalyst for US dollar bulls over the past 2 months has been tax reform, but that could also be the catalyst for the bears as Ashraf indicated here and here. The yen was the top performer Wednesday while the US dollar lagged. New Zealand retail sales beat estimates in early Asia-Pacific trading. One of the two Premium trades in EURUSD took 90-pip gain. 6 of the existing 8 Premium trades are currently in the green.
Read More...
PREMIUM INSIGHTS
Update: Nov 20, 19:28

2nd leg of EURUSD
Adding new EUR Trade
صفقة أخرى في اليورو / الدولار
USD Fails to Follow Indices
Nov 22, 2017 12:55:
The march higher in equities continues after existing home sales numbers beat estimates but the reason that USD remains weak across the board is attributed to the fact that emerging markets are fuelling global indices, rather than US data. (see chart below). UK Chancellor Hammond announces a non-inspirting budget and GBP slips off its highs after 2017 and 2018 GDP growth estimates have been revised lower. The minutes of the Oct 31-Nov 1st FOMC meeting are out at 7 pm GMT/London. Ashraf has laid out in today's Premium video that Emerging Markets funds are outperforming their US counterparts. The Premium video will be posted before the US stocks session.
Read More...
The Strongest & Weakest
LATEST ARTICLE
Aug 17
Euro Moves Far from Brutal
Earlier today, euro suffered a minor bump on the release of the minutes from last month's ECB Governing Council policy meeting, which revealed growing concerns with a possible overshoot in...
HOT-CHART
Aug 24
US Stocks Sector Performance
In comparing the year-to-date sector performance for the S&P500 to that of 2016, the 2 most striking developments is the reversal in energy stocks from best performer in 2016 to the worst so...