Posted Jul 26, 15:31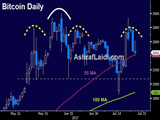 16 hours ago:
This evening's FOMC decision is being billed as a non-event but that kind of apathy is an elixir for volatility. The healthcare vote in the Senate adds new US dollar risks this week. Market probability of a December rate hike have dropped to 46.5% from 48%. Earlier today, June new home sales rose 0.8% to 610k, slightly below the expected 615k.
Read More...
PREMIUM INSIGHTS
Update: Jul 17, 20:59

New Index & USD Short
New Short in USD & Global Index
صفقة جديدة لبيع الدولار و مؤشر العالمي
Full trades & charts
PREVIOUS NEWS
Bitcoin & Ethereum Webinar
Jul 26, 2017 13:42:
On Jul 4th webinar, when Bitcoin traded at $2590, I mentioned the technical and fundamental reasons why it would drop below $2000. 12 days later, Bitcoin fell to $1800. Today's price is at $2540, down $400 over the last 2 days despite the BIP91 lockin. Find out why & what's ahead in Monday's webinar.
Read More...
The Global Petrie Dish
Jul 25, 2017 17:59:
The rising tide of global growth is lifting all boats but there are lessons in how some are recovering better than others. The Aussie is the strongest, while the JPY is the weakest as equity indices enter an obligatory corrective rally ahead of the Fed. Month-to-date, all currencies are up against the dollar, with the loonie on top and GBP at the bottom. The Premium Insights will issue a trade tomorrow ahead of the Fed decision.
Read More...
The Strongest & Weakest
LATEST ARTICLE
Jul 17
USD Damaged by Relative Growth & Inflation Change
In January, most of the FX world jumped on the wave of a positive USD outlook based on the easily articulated but inaccurate theory of diverging monetary policies-- that the Fed will be the only...
HOT-CHART
Jul 10
Bitcoin Head & Shoulders
As Bitcoin is set to post its first 3-day consecutive daily drop in nearly 4 months, digital currency traders will want to know more about the biggest potential development currently surrounding...