Posted Apr 23, 15:52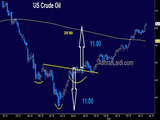 1 hour ago:
In response to the US announcement to end Iranian oil waivers aimed at reducing Iran exports to zero, Saudi Arabia reportedly is ready to raise production. Oil is off by less about 50 cents from its 6-month highs (Brent high was $74.70 and US crude high reached $66.19). The DOW30 Premium trade was closed at 26580 for 300 pt gain. USD strength emerges across the board with the USD index at its highest since March 7th. US new home sales jumped 4.5% in Mar, suprising estimates for a 3% deccline. All commodities are in a slump with the exception of oil.
Read More...
PREMIUM INSIGHTS
Update: Apr 12, 11:30

New Index Trade
With 2 charts & 5 supporting notes
صفقة جديدة للمشتركين يرافقها ٥ ملاحظات بالعربي داخل المخططات
Mueller, Retail Sales & China Deal
Apr 18, 2019 13:15:
We'll find out today why US Special Counsel Mueller declined to make a decision on whether to charge Pres Trump with obstructing justice after a 2-year investigation. As for the China story, Trump said there will be a "very big spike" in markets when a China trade deal gets done. But as markets showed Wednesday, that's may not necessarily be the case. GBP ignores stronger than expected UK retail sales. Euro drops across the board on a series of a disappointing Eurozone PMIs. Canada and US retail sales are due at 1230 GMT/13:30 London. Ashraf sent me this chart suggesting that gold will need to stabilise then rally vs copper in order for indices to make any meaningful pullback.
Read More...
The Strongest & Weakest
HOT-CHART
Mar 14
Ashraf's Trade on Real Vision TV
Ashraf Laidi of Intermarket Strategy, returns to Real Vision to analyze the historical cycles in the British pound and to discuss the fundamental backdrop & news regarding Brexit, runs...