Posted Jan 23, 17:41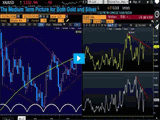 13 hours ago:
Gold is $100 above the level from my first video on the topic back in December. We take a look at positioning among speculators, as well technical analysis in assessing the medium term picture for both gold and silver. Full Video.
Read More...
PREMIUM INSIGHTS
Update: Jan 17, 14:35

New CAD Trade
New CAD ahead of the BoC
صفقة جديدة في الدولار الكندي
The Strongest & Weakest
LATEST ARTICLE
Aug 17
Euro Moves Far from Brutal
Earlier today, euro suffered a minor bump on the release of the minutes from last month's ECB Governing Council policy meeting, which revealed growing concerns with a possible overshoot in...
HOT-CHART
Aug 24
US Stocks Sector Performance
In comparing the year-to-date sector performance for the S&P500 to that of 2016, the 2 most striking developments is the reversal in energy stocks from best performer in 2016 to the worst so...