Posted Jun 29, 11:23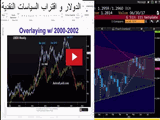 5 hours ago:
Carney and Poloz dropped fresh hawkish hints to spark big moves on Wednesday while the ECB failed to damped expectations. The Canadian dollar was the top performer while the US dollar lagged. US jobless claims are next and their latest 4-week moving average is at 245K, the highest since April. The Premium GBPUSD long was closed for 205 pips, more importantly what's next? 2 Charts were added.
الدولارواقتراب السياسات النقدية (للمشتركين فقط)
Read More...
PREMIUM INSIGHTS
Update: Jun 22, 3:00

New NZD Trade
2 New charts & note on NZD
صفقة جديدة على الدولار النيوزيلندي
Full trades & charts.
PREVIOUS NEWS
Sometimes It only Takes a Nudge
Jun 27, 2017 23:15:
When markets are on the razor's edge it only takes a nudge to send them tumbling; that's what came on Tuesday. The euro was the top performer while the yen lagged. The Asia-Pacific calendar is light but a major central banking event takes place later on Wednesday. The EURUSD premium long was closed at 1.1348 for 168-pip gain, while cable remains open. Below is the Premium video posted right after Draghi's inflation remarks.
Read More...
Bitcoin & Ethereum Webinar
Jun 27, 2017 13:16:
Following the launch of Bitcoin, Ethereum, Litecoin and two other Cryptocurrency CFDs to trade at leading UK broker XTB, I am teaming up with the firm to launch a Special Live Webinar Event - How to Trade Bitcoin - on Tuesday 4th July at 8pm London Time.
Read More...
The Strongest & Weakest
LATEST ARTICLE
Jan 27
Protectionism won't Protect USD
The notion that Trump's planned protectionist measures (tariffs and border adjustment tax) will be USD-positive is founded on an unrealistic world –where Mexico, China and other US...
HOT-CHART
Jun 05
Qatari Shakedown
Qatari stocks tumbled more than 7%, the worst decline since 2009 after Saudi Arabia led an immediate regional break in economic and political relations with Qatar, which includes Bahrain, UAE,...