Posted Nov 27, 15:02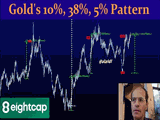 Nov 27:
You know about the 10%, 38%, 5% pattern in gold if you watched any of my recent videos. If you have not, here is the latest update on the pattern in light of gold's reclaiming $2000. And the latest on AUDUSD. Watch full video.
Read More...

HOT-CHART
Jun 22
Gold, Bitcoin, USD Combo
I mentioned last week on here on how and why both gold and USD are falling together. Since then, the trend accelerated alongside another detail.