Posted Jan 23, 8:12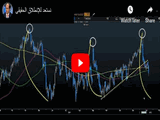 42 minutes ago:
The coronavirus is increasingly drawing the attention of the financial markets and escalating headlines about infections are putting traders on edge. Chinese officials halted travel from Wuhan, locking down the city of 11 million people as they confront halting the spread of a new SARS-like virus that's already killed 17 and infected nearly 600 people. More below on how this compares to SARS in 2003. Aussie is the highest gainer on reduced expectations for an RBA rate cut next month after an unexpected decline in the jobless rate. Global indices are down across the board, oil extends its tumble, CAD fell sharply after the BoC issued a dovish hin, while JPY and bonds resume their ascent. The Premium trades in short oil and long cable are deepening in the green, while the EUR trades await the ECB's 500th ECB policy decision, due later today.
نستعد للإنطلاق الحقيقي (فيديو للمشتركين)
Read More...
PREMIUM INSIGHTS
Update: Jan 15, 12:50

1st time in 12 months
Opening a Trade in this for 1st time since Jan 2019
عودة الى هذه الصفقة لاول مرة منذ سنة مع بالتفسير بالعربي داخل الرسوم البيانية




Full trades & charts
PREVIOUS NEWS
Housing Higher, Dollar Bets Shrink
Jan 21, 2020 11:38:
Here we go again; central bank meetings and more earnings from the US. US housing starts jumped 16% on Friday in a positive sign for the US consumer and a sign that low interest rates might be working too well. Trading was light on Monday largely because of the MLK holiday in the US. Gold leads all currencies, holding partly to gains after US inde futures bounce from Asia lows. The CFTC positioning data showed US dollar longs cutting back again. As speculation mounts ahead of this week's BoE and ECB monetary policy decisions, Ashraf posted the chart below, which he says is foretelling a major move in 2020.
Read More...
5 Near-Term Themes
Jan 17, 2020 18:02:
You probably had your fill of "2020 themes", so why not another? The one spot to watch for a jolt to global growth in ... China. The US-China trade deal removes a major worry for Beijing, which may take action as soon as early next week to enact some stimulus ahead of a week of holidays starting on Jan 24. Officials strongly hinted that another RRR rate cut isn't coming, but they are expected to cut the loan prime rate soon and may take additional stimulus measures on the fiscal side. That would be powerful -- and if they do, I see bright days ahead for the Australian, Canadian and New Zealand dollars.
Read More...
The Strongest & Weakest
HOT-CHART
Jan 07
Forex Brokers' Share Price Performance
The latest on share price performance of major forex firms shows CMC Markets in the lead, up 34% since January 2019, followed by IG Markets' 20% and Swiss Quote at 9%.