Posted May 31, 1:00
11 hours ago:
Better German CPI and French GDP Monday may pave the way for a euro reprieve. The Swiss franc was the top performer in holiday-thinned trading Monday while the yen lagged. The week ramps up in a big way from here starting Japanese jobs, household spending and industrial production.
The Premium Video of existing and new trades will be posted on Tuesday evening after the month's close of indices, FX & metals.
The euro is in the midst of testing the 200-day moving average and the uptrend since December. On Monday, it got some help from Germany and France. German HICP rose 0.4% m/m in May compared to 0.3% expected. That took the country out of deflation in year-over-year terms. France reported Q1 GDP at 0.6% q/q compared to the 0.5% consensus. Better investment was behind the beat.
Read More...
PREMIUM INSIGHTS
Update: May 25, 12:00

New CAD Trade
Adding a 2nd CAD trade to the Premium Insights ahead of the Bank of Canada decision and oil figures. Trades section.
PREVIOUS NEWS
How Soon is 'Fairly Soon'?
May 26, 2016 22:53:
A weak durable goods report and comments from the Fed's Powell offered some insight into what the Fed will do next. CAD and JPY were the top performers, while the pound sterling lagged. Japanese CPI and Aussie Capex are due next.The April US durable goods report highlighted the challenges the Fed faces. There are currently 9 Premium trades in progress, 2 of which are CAD longs.
Read More...
CAD Outperforms on BoC, Oil
May 25, 2016 23:51:
The Bank of Canada took a more-neutral stance than expected on Wednesday and along with rising oil prices that helped made the Canadian dollar the top performer while the yen lagged. Australian capex data and the New Zealand budget are due later. The Premium Insights added a 2nd CAD long to the trades ahead of the BoC decision and EIA inventory announcement. Full rationale and charts analysis to the CAD and other trades is in today's Premium Video.
Read More...
HOT-CHART
Mar 03
مؤشرات الأسهم الخليجية
Performance of Gulf Bourses since oil's August top . مؤشرات الأسهم الخليجية التغير المئوي منذ ذروة النفط في أغسطس 2015 ..
Subscribe to Ashraf's Newsletter
RT @Livesquawk: Eurozone CPI Estimate (YoY) May: -0.10% (est -0.10%; prev -0.20%) -CPI Core (YoY) May: 0.80% (est 0.80%; prev 0.70%)

(2 hr ago)

Boris Johnson accused of 'promoting fantasy economics' after claming #Brexit would allow govt to scrap fuel VAT https://t.co/mds6ouylj3

(3 hr ago)

يوم مهم للاغلاق الشهري في مؤشرات البورصة

(3 hr ago)

Euro thoughts & CFTC positioning https://t.co/spRXeN2sKg #forex

(4 hr ago)

Euro thoughts & CFTC positioning by @FX_Button https://t.co/spRXeN2sKg #forex

(11 hr ago)

Hedge funds and banks commission Brexit exit polls - https://t.co/cZE3Dl60KK

(12 hr ago)

إعلان اليوم أن دفعة كبيرة من بيتكوين سيتم بيعها في مزاد الشهر المقبل #forex $GLD #XBT https://t.co/2A26mJfygT

(yesterday)

#Bitcoin after today's auction announcement #forex $GLD #XBT https://t.co/TD7TBOmfha

(yesterday)

All the details on gold were in last Wednesday's Gold chart/note

(yesterday)

Bitcoin's dollar value spikes as auction announced - https://t.co/3hCq7ys13h

(yesterday)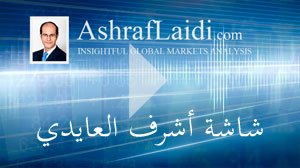 Premium Content

21-yr Intermarket Charts - 7 indices 11 currencies 14 commodities
Interactive charting by instrument, chronological and alphabetical order. This enables organizing each individual commodity, currency or equity index' performance by magnitude or chronological order.
View..