Posted Oct 16, 19:10
| | |
| --- | --- |
| FOMC's Brainard Speaks | Oct 16 19:00 |
| FOMC's Bowman Speaks | Oct 17 18:00 |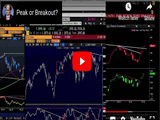 19 hours ago:
Few hurdles remain on ahead of a Brexit deal and a smooth ride is unfathomable, but now is a good time to ask the question: What is a deal worth in GBP/USD? GBP is again the day's top performer, becoming the 2nd stronger performer of the year. The latest from Brexit talks developments is a UK govt source indicating there will be no Brexit deal tonight due to unresolved issues with both the DUP and EU. But negotiations will continue this evening as other officials say technical talks are continuing and most issues are resolved apart from VAT. The latest video for Premium susbcribers is found below.
Read More...
PREMIUM INSIGHTS
Update: Oct 15, 11:29

New Index Trade
Backed by 3 charts, 6 notes
صفقة جديدة للمشتركين مدعومة بثلاثة مخططات و ستة وملاحظات بالتفسير بالعربي
Earnings & Deal Talks Take Over
Oct 15, 2019 12:12:
The market caught deal fever last week but hope turned into skepticism early this week. Indices are higher, awaiting the release from the rest of US bank earnings (after JPM beat estimates). GBP is the strongest performer of the day amid recurring remarks from UK & EU officials expressing attempts to reach a deal in the final innings (more below). Beijing said it would buy $50 bn more in US agricultural goods only if Washington removed retaliatory tariffs set since the start of the trade war. A new Premium trade has been issued, backed by 3 charts & 6 key notes. The chart below highlights the emerging support for the GBP's trade weighted index amid Brexit negotiations.
Read More...
The Strongest & Weakest
HOT-CHART
Oct 16
GBP-USD Yield Spreads
As GBP becomes the 2nd highest performing currency in the G10 since the start of the year, posting daily gains not seen in 10 years, here is a look at the current yields situation, with GBP...