Posted Feb 19, 12:09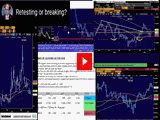 5 hours ago:
US-China trade talks resume in Washington today with the aim of striking a comprehensive deal ahead of the March 1st deadline. A sharp slowdown in auto sales sparked fresh worries about the Chinese economy Monday but the holiday-thinned market shrugged. Gold and silver are the only gainers versus the US dollar while all major currencies are down against the greenback. Another round of UK economic data is due as parliament continues to fray. The Premium video below discusses the updated EURUSD charts and analysis, GBPUSD, DAX, SPX, VIX and USDCHF.
Read More...
PREMIUM INSIGHTS
Update: Feb 11, 14:11

The Other Side
The other side of Indices
صفقة جديدة عكس السابقة
The Strongest & Weakest
HOT-CHART
Feb 12
Forex Brokers' Performance
Share price performance of all publicly traded Forex firms is clearly down since the summer on a combination of plummeting traders' interest in cryptocurrencies and a tightening of European...