Posted Feb 23, 0:11
| | |
| --- | --- |
| Core Retail Sales (m/m) | -1.8% |
| FOMC's Dudley Speaks | Feb 23 15:15 |
| FOMC's Mester Speaks | Feb 23 18:30 |
More Events...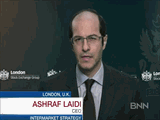 Feb 23:
The US dollar retreated Thursday after a week of gains as hawkish talk was brushed aside. The yen was the top performer while the US and Canadian dollars lagged. A new Premium trade will be issued ahead of the Asia Friday trade session. It will be the 3rd index trade.
Read More...
PREMIUM INSIGHTS
Update: Feb 23, 0:22

3rd Index Trade
A 3rd short in a major Index
صفقة ثالثة على مؤشر رئيسي
The Strongest & Weakest
LATEST ARTICLE
Aug 17
Euro Moves Far from Brutal
Earlier today, euro suffered a minor bump on the release of the minutes from last month's ECB Governing Council policy meeting, which revealed growing concerns with a possible overshoot in...
HOT-CHART
Feb 15
Deficits, USD & Gold
Why is USD sustaining fresh selling despite expectations of 3-4 Fed hikes this year. Does the budget deficit matter for FX. And one more look at gold. Watch the full video..