Posted May 30, 17:08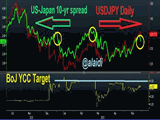 May 30:
During yesterday's sleepy markets, I highlighted in this tweet the rally in bund futures (rising prices, falling yields) may signal similar price action at the subsequent session, when US bond yields/prices return from Memorial Day Weekend. Today's bond price action did not disappoint, as the homogenous asset class moved in concert, delivering gap ups in prices and falling yields. This was a desperately needed development for yen bulls (particularly USDJPY shorts). Interpret what you wish from the chart below as to which is the dependent and independent variable (USDJPY or yield spread). Who leads whom? Shorting USDJPY has been the "pain trade" for our WhatsApp Broadcast Group, as we await Wednesday's debt ceiling vote and the JOLTs survey. Hanging in there.
Read More...

PREVIOUS NEWS
Charts' Year to Date Performance
May 29, 2023 16:23:
As the focus falls on AI, Tech and yields, cryptos are making a solid comeback. Aside from Wednesday's Congressional vote on the debt ceiling, keep your eye on the ball, namely the crucial JOLTS report, ISM and the all important NFP +AHE. What used to be +50% odds of 3 rate cuts in H2 is shifting to a possible rate hike in June careful.
Read More...
What's a Cycle Completing Trade?
May 19, 2023 18:50:
Before I mention complete-the-cycle trade, I need to address Powell & the Fed. Seeing Fed chair Powell speaking today on a panel next to Ben Bernanke struck me how much more transparency, communication, forward guidance and all sort of other means of reaching out to the public has emerged from the Federal Reserve, compared to the Bernanke days nearly a decade ago. But even with the improved communication and policy tools
(forward guidance helped lift yields before the start of rate hikes)
, the Fed remains in the dark and with reduced firepower. Here's why and how.
Read More...
Subscribe to Ashraf's Newsletter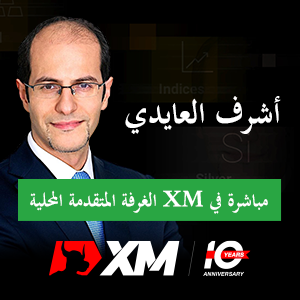 History repeats in Istanbul but it was sure no thriller https://t.co/19Zomeshpz

(48 min ago)

Congratulations #ManCity totally well deserved. This Inter doesnt even reach the heels of 2010 Champs. Guardiola fi… https://t.co/eRRRtvuZ9z

(55 min ago)

@Caven2006 صحيح. اذا يلعب محرز نشجح محرز.

(8 hr ago)

@Jibranshahzad97 Nope they aren't.

(8 hr ago)

What's left of 2010 Inter Treble shirt https://t.co/Qzkaq4w137

(9 hr ago)

https://t.co/gGvfeUNoe2

(12 hr ago)

@Bitcoin_is_time looks like it stays that way

(yesterday)

Just when you thought they couldnt get any more disgraced for lying and cheating, Boris Johnson & DonaldTrump get a… https://t.co/JUYGjR58yH

(yesterday)

The last time #Istanbul had the #ChampionsLeagueFinal also involved clubs from Milan & England and the English club… https://t.co/WTeCCNHMbu

(yesterday)

Economics of Messi's deal https://t.co/yq4VAthews

(yesterday)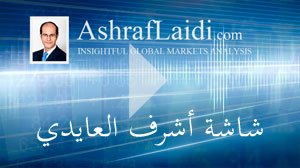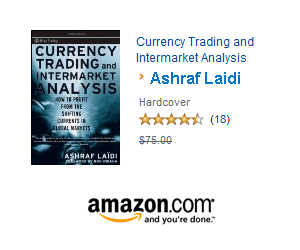 € £ $
Cross Rate Calculator
Enter values for EURUSD and EURGBP to find the corresponding GBPUSD rate
Premium Content

21-yr Intermarket Charts - 7 indices 11 currencies 14 commodities
Interactive charting by instrument, chronological and alphabetical order. This enables organizing each individual commodity, currency or equity index' performance by magnitude or chronological order.
View..