Posted Dec 15, 10:50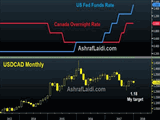 10 hours ago:
ECB president Draghi and BoC governor Poloz showdd their usual rhetorcial creativity on Thursday, prompting the euro to lose some ground and the loonie to regain momentum following last week's rate announcement. Yen pushes higher after the Tankan manufacturing survey hit 11-year high. USD is down cross the board after on fresh roadblocks to US tax reform, this time from Senator Rubio. Up next is US industrial production and further chatter on the tax bills.
Read More...
PREMIUM INSIGHTS
Update: Dec 8, 13:00

New EUR Trade
2nd Leg of EUR Trade
صفقة جديدة في اليورو
The Strongest & Weakest
LATEST ARTICLE
Aug 17
Euro Moves Far from Brutal
Earlier today, euro suffered a minor bump on the release of the minutes from last month's ECB Governing Council policy meeting, which revealed growing concerns with a possible overshoot in...
HOT-CHART
Aug 24
US Stocks Sector Performance
In comparing the year-to-date sector performance for the S&P500 to that of 2016, the 2 most striking developments is the reversal in energy stocks from best performer in 2016 to the worst so...