Posted Jun 25, 20:27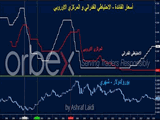 11 hours ago:
مع تسجيل الدولار الأمريكي أكبر انخفاض شهري له منذ 17 شهراً بعد إشارة مجلس الاحتياطي الفيدرالي إلى تخفيضات سعر الفائدة المرتقبة، أسمع العديد من المتشككين فيما إذا كانت العملة الأمريكية ستحافظ على مزيد من الانخفاضات من هنا بناءً على توقعات بأن البنوك المركزية الأخرى جاهزة أيضاً لخفض أسعار الفائدة. هل هذا خطأ أم صحيح؟ التحليل الكامل
Read More...
PREMIUM INSIGHTS
Update: Jun 25, 19:30

New FX Trade
With 3 charts & detailed notes
صفقة جديدة على زوج عملات مع التفسير بالعربي داخل المخططات
PREVIOUS NEWS
USD's Biggest Decline in 17 Months
Jun 25, 2019 15:21:
Three days remaining til the end of the month (and quarter) The US dollar index is posting its biggest monthly decline in 17 months. EURUSD hit a three-month high on Monday and rose above 1.14 to hit Ashraf's target. Gold hit a fresh 6-year in Asia and returns near the highs after a 8% decline in US new home sales. Eatch out for Powell's speech about the US economy at 13:00 Eastern (18:00 London) and dissenter Bullard's speech 6.5 hrs later. The Premium short in USDCAD has been closed at 1.3160 for 200 pip-gain. The latest Premium video is below contains some impirtant mechanics about USD shifts ahead and during Fed rate cuts.
Read More...
Lowe Asks the Question
Jun 24, 2019 12:25:
RBA Governor Lowe touched a delicate subject that his counterparts may also have to deal with, especially if this week's G20 goes well.The German June IFO survey beat expectations for the current assessment and slipped on the expectations component. We expect a period of a relative lull in the markets ahead of Trump/Xi meeting at this weekend's G20 summit. GBP pushes above 1.2740 as Jeremy Hunt and Boris Johnson battle it out for the PM race. More below. The Premium long in XRP Ripple at 0.33 entry hit the final target of 0.49. The long EURUSD Premium long at 1.1230 is a few pips away from its final 1.1400 target for 170-pip gain. Below are the chart breakouts for EURUSD and XAUUSD net longs among speculative futures traders in the IMM and Comex respectively.
Read More...
The Strongest & Weakest
LATEST ARTICLE
May 24
After Theresa May
Now that PM Theresa May has announced stepping down from the Conservative Party leadership as of June 7, the ongoing political chaos will shift temporarily from striking a deal on the Withdrawal...
HOT-CHART
Mar 14
Ashraf's Trade on Real Vision TV
Ashraf Laidi of Intermarket Strategy, returns to Real Vision to analyze the historical cycles in the British pound and to discuss the fundamental backdrop & news regarding Brexit, runs...