Posted Mar 24, 16:37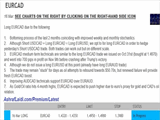 Mar 24:
The following is the rationale behind our long EURCAD trade issued to our Premium susbcribers last week, currently +100 pips in the green. The focus here is on the rationale behind the decision to go long as highlighted in the 7 reasons below. Considerations of technnicals, fundamentals, intermarket cross-correlations can benefit significantly when applied correctly.
Read More...
PREMIUM INSIGHTS
Update: Mar 22, 21:55

New Index Trade
4 technical reasons & 4 charts for the trade
صفقة جديدة في مؤشر مع 4 أسباب فنية و 4 رسوم البيانية
Full trades & charts.
PREVIOUS NEWS
Repeal-Replace Delayed
Mar 23, 2017 22:20:
When in doubt, delay. Republicans delayed the vote on their first major piece of legislation as Tea Party supporters said it didn't do enough to eliminate Obamacare. The pound was the top performer while the Australian dollar lagged. Last night's Premium is now in progress joining 7 other trades. 2 trades in indices, 2 in commodities and 3 in FX.
Read More...
The Strongest & Weakest
LATEST ARTICLE
Jan 27
Protectionism won't Protect USD
The notion that Trump's planned protectionist measures (tariffs and border adjustment tax) will be USD-positive is founded on an unrealistic world –where Mexico, China and other US...
HOT-CHART
Mar 10
Oil vs Yields
We know that bond yields and oil generally move in the same, but sometimes the relationship breaks down as it did in last Nov-Dec due to powerful USD rally surging with yields to the extent that...