Posted May 22, 11:57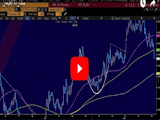 8 hours ago:
Monday's equity rally was another confirmation that the year's dominant market worry is the trading relationship between China and the US. Improved relations and detente over the past 2 days have led to a rally in risk assets with the Australian dollar being the top performer and the pound trailing. Earlier today, BoE's Carney reiterated that interest rates will rise at a timid pace, while USD broadens selloff. Silver and the ppund are the highest gainers since Tuesday's Asia open. The DOW30 Premium was stopped out at 25050 (High was 25085). Yesterday's trade is +70 pips in the green.
مطاردة القيعان (فيديو المشتركين)
Read More...
PREMIUM INSIGHTS
Update: May 15, 15:44

New Index Trade
5 Reasons
صفقة على مؤشر رئيسي
PREVIOUS NEWS
USD, AUD up as US-China Pause Tensions
May 21, 2018 10:47:
USD started the week higher thanks to a relief in the US-China trade tensions and further losses in Italian bonds as the new coalition veers away from the basic budget requirement of the euro project. The odds of a Bank of Canada rate hike tumbled after soft reports Friday on CPI and retail sales. The Swiss franc was the top performer last week while the euro lagged. CFTC positioning data showed that kiwi longs have finally squared up. A new Premium trade has been adde with 3 charts & detailed note, identifying a crucial inverse H&S formation. The monthly chart is found below.
Read More...
Bond Breaks Out, CAD Data Next
May 18, 2018 10:27:
The bond market continues to break down as US 30-year yields broke a major resistance level Thursday. Sterling was the top performer after some Brexit related news denials and confirmations, while the yen lagged. Key Canada CPI and retail sales data are due later today. 1 CAD Premium trade remains open.
Read More...
The Strongest & Weakest
LATEST ARTICLE
Aug 17
Euro Moves Far from Brutal
Earlier today, euro suffered a minor bump on the release of the minutes from last month's ECB Governing Council policy meeting, which revealed growing concerns with a possible overshoot in...
HOT-CHART
Mar 20
Rare Quarterly Dow Doji
The quarterly candle on the Dow Jones Industrials Average shows a rare long-legged doji, one of the most striking reversal signs in candlestick analysis. Full Analysis..