Posted Apr 24, 0:01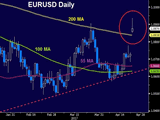 8 hours ago:
One thing we haven't heard often in the past year was "the polls were right" but that was exactly what unfolded on Sunday in France as Macron and Le Pen won the first round of the election. The euro opened nearly 200 pips higher at the open with yen tumbling. CFTC positioning data showed few GBP shorts getting cleared out despite last week's jump. The Premium EURAUD long was closed for 240-pip gain, EURUSD long remains 205 pips in the green and EURJPY was stopped out at 190-pip loss.
Read More...
PREMIUM INSIGHTS
Update: Apr 20, 20:40

Reopening Index Trade
New Index is opened w/ 2 charts & notes
صفقة جديدة في مؤشر أمريكي
Full trades & charts.
PREVIOUS NEWS
Countdown to Sunday's Volatility
Apr 20, 2017 22:57:
First there was Brexit, then Trump and now it's the French election; or at least that's the narrative playing out in the markets. We take a closer look. The Premium Insights closed the EURCAD long at 1.4495 for a 235-pip gain in order to make a way for a tactical dual EUR trade on Friday ahead of Sunday's French elections.
Read More...
The Strongest & Weakest
LATEST ARTICLE
Jan 27
Protectionism won't Protect USD
The notion that Trump's planned protectionist measures (tariffs and border adjustment tax) will be USD-positive is founded on an unrealistic world –where Mexico, China and other US...
HOT-CHART
Apr 20
Silver, Gold & Broken Records
We may have started to sound like a broken record with our repeated stance in favour of silver over gold over the last 6-9 months, via our numerous bearish takes on the gold/silver ratio.