Posted Nov 21, 16:03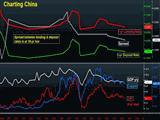 20 hours ago:
China's decision to cut rates for the first time in two and a half years triggered a classic play of boosting global equities, commodities and their currencies, reinforcing investors' preferred play of shorting EUR and GBP vs the Canadian dollar. Full charts & analysis
Read More...
PREMIUM INSIGHTS
Update: Nov 19, 14:43

Onto EUR vs GBP Battle
How to play today's GBP bounce vs yesterday''s EUR ascent? We issue 2 trades and 3 charts in the pair, adding them to the existing GBPCAD trades. Today's trades & charts here.
PREVIOUS NEWS
A Warning Sign for the Dollar Bulls
Nov 20, 2014 22:41:
The US dollar got the news it needed but the market wasn't impressed, that could be an early warning sign. The Canadian dollar was the top performer while the euro lagged. The Asia-Pacific calendar is quiet after a busy week. Our Premium trades include EURGBP, GBPCAD and USDCAD ahead of tomorrow's Canada CPI figures.
Read More...
Manufacturing PMI confirm FX status quo
Nov 20, 2014 17:39:
Today's flurry of manufacturing and services surveys from the US, China and Eurozone confirmed what the market had suspected; a cooling off in the pace of expansion in US manufacturing, despite remaining the highest rate in the G7 --, while both Germany and China eked out an expansion, albeit at a slower pace, as did the pan-Eurozone measure of both sectors. France remained in contraction territory. Full charts and analysis.
Read More...