Posted Feb 17, 8:15
| | |
| --- | --- |
| Retail Sales (m/m) | Feb 17 09:30 |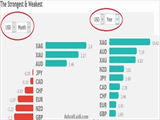 Feb 17:
The US dollar is struggling but it shouldn't be. We look at why the dollar has been the worst performer in 2017. Stocks, bonds and currencies are sending different signals. The S&P 500 finished fractionally lower on Thursday after five days of records and a nearly 13% gain since the election. US 10-year yields are at 2.45% compared to 1.80% on election night. The mystery chart in the previous IMT is that of the gold bugs HUI.
Read More...
PREMIUM INSIGHTS
Update: Feb 15, 14:55

Another Metals Trade
New metals supported by 3 charts & detailed note
صفقة جديدة على على المعادن
Full trades & charts.
PREVIOUS NEWS
USD Reverses, AUD Jobs Next
Feb 15, 2017 22:40:
Signs that better post-election confidence is beginning to translate into growth sent the US dollar initially higher but other questions reversed the move. The New Zealand dollar was the top performer while the pound lagged. The Australian jobs report is due up next. A new metals trade has been added to the Premium Insights, supported by three charts & details, bringing the number of commodity trades to three.
Read More...
Yellen Dials Up Dollar
Feb 14, 2017 21:42:
Janet Yellen made sure a March rate hike is on the table in the first day of her Humphrey Hawkins testimony. The Australian dollar was the top performer while the pound lagged. Australian vehicle sales highlight a light calendar later. Today's video below (for Premium subscribers) tackles the existing trades as well as the likely upcoming trades and the rational behind him. 2 remaining USD longs are in progress.
Read More...
The Strongest & Weakest
LATEST ARTICLE
Jan 27
Protectionism won't Protect USD
The notion that Trump's planned protectionist measures (tariffs and border adjustment tax) will be USD-positive is founded on an unrealistic world –where Mexico, China and other US...
HOT-CHART
Dec 27
Commodities 2017 Performance
Natural Gas is the biggest winning commodity in 2017 up 58%, followed by brent oil, sugar, crude oil, palladium, copper, soya, silver, gold, coffee and wheat -14%..