Intraday Market Thoughts
ADP Jumps, Oil Slumps
A blockbuster ADP employment report helped solidify a Fed hike next week and ramped up speculation about more hikes to come. The other drama in the market Wednesday was a 5% drop in oil prices as US inventories continue to build. The ECB decision is coming up in European trading but Chinese and Japanese inflation-related data is first. A new EUR trade will be released ahead of tomorrow's ECB meeting.
Click To Enlarge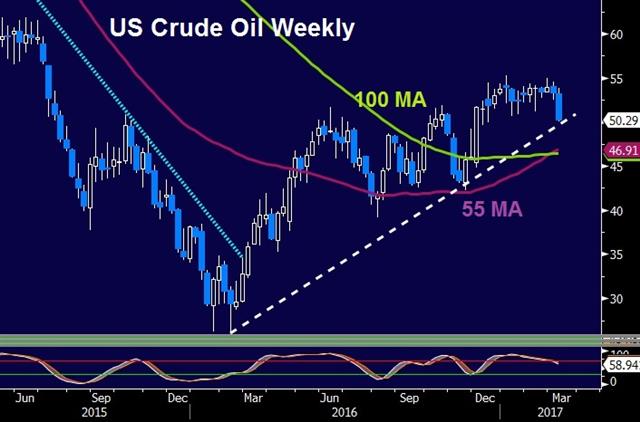 Private US payrolls rose an astounding 298K in February according to ADP. That was the best reading since 2013 and handily beat the 190K consensus. Moreover, recent revisions in the ADP formula have helped it track non-farm payrolls more closely.
Notably, the US dollar was unable to take advantage aside from USDJPY. EUR/USD dipped 30 pips but rebounded within the hour. USD/JPY climbed to 114.75 from 114.00 but gave back half of the gains by the close. That suggests that even a strong non-farm payrolls report won't mean much upside with a March hike fully priced in.
The big market move on the day was in oil and USD/CAD. The EIA reported an 8.2m barrel build in crude supplies. That was largely expected after yesterday's API number but it proved to be a blow oil bulls couldn't take. It was the ninth consecutive storage build and WTI finished nearly $3 lower in the largest decline since July. The 100-day moving average gave way and oil is now flirting with the $50 level.
Predictably, the drop in oil boosted USD/CAD and the pair tested 1.3500 and erased the 2017 decline. Technically, the late-December high of 1.3600 is the level to watch if barriers at 1.35 give way.
Expect continued volatility in the day ahead with the ECB decision on tap. First though are some notable economic indicators from Asia. Japan releases labor cash earnings for January at 0000 GMT. The consensus is for just a 0.4% y/y rise in another demonstration that it will be tough for Kuroda to break deflation's grip.
At 0130 GMT, China releases February CPI. The consensus is for a 1.7% y/y rise. That's down from 2.5% in January as calendar effects from energy begin to run off. With leaders lowering the growth target and inflation headed lower, a weak number could be the first hint of more stimulus to come.
Act
Exp
Prev
GMT
Labor Cash Earnings (y/y)
0.3%
0.5%
Mar 09 0:00
Consumer Prce Index (y/y)
1.9%
2.5%
Mar 09 1:30
Latest IMTs