Intraday Market Thoughts
Avoiding Costly Rookie Mistakes
This time last year, the Fed began hiking during the first "real" European war in 8 decades. Today, it will hike in the midst of 2nd largest US bank failure-- caused by those hikes. The collapse of Sillicon Valley Bank is
a stark reminder that Fed rate hikes can still hurt Wall Street
. SVB CEO admitted (along with most market players) he underestimated the scale of Fed rate hikes, hence the lack of vigilance in purchasing long duration bonds. Today's release of US February jobs report showed an
unexpected bounce in the US unemployment rate and slowing earnings
growth, both instrumental in propping gold and dragging down bond yields and the US dollar. These two items might not have been sufficient in ruling out a 50-bp rate hike later this month, but the SVB collapse should bury hopes of a 50-bp hikes and force the Fed to stick to its 25-bp rate cadence. And now onto the markets.
Click To Enlarge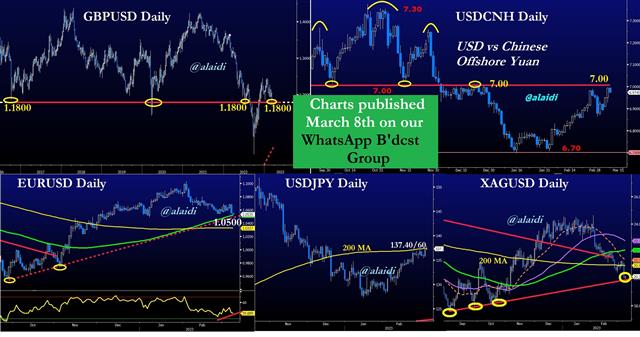 The 5 charts below were published on Wednesday to our WhatsApp Broadcast Group, highlighting the USD-Metals matrix was at a key juncture via some of our preferred radar screens. Take the previous 7.0 H&S neckline of USDCNH, which was broken late last year to trigger that 6.70 target. USDCNH rebounded back only to fail at the 7.0 level. This coincided with USDJPY's failure at its 200-DMA along with that crucial trendline support in silver.
Avoiding costly rookie errors
I was at the London Trader Show today, where my appearance on a panel discussion coincided with the release of US jobs report. This means I could not share my usual detailed interpretation and post-data analysis (voice and text) to our WhatsApp Broadcast Group. The moment the news was published, I posted this phrase at 13:32 London Time to the Group "Earnings slipped and unemployment rate rose V good for GOLD".
Most traders would have focused on the stronger than expected headline figure "NFP" and gone to buy USD and sell gold. Not our WBG members, who are well guided with daily analysis/support until things basically stick in their brain and such thinking becomes reflexive.
Latest IMTs