Intraday Market Thoughts
Before & After the Hurricanes
Hurricanes will get the bulk of the blame but the latest data showed growth was slowing before Harvey and Irma. A big week ahead: Trump's UN speech on Tuesday; Fed decision & Yellen presser on Wednesday; PM Theresa May's EU speech on Friday and German Elections on Sunday. A new Premium note has been added to further our existing index trade.
Click To Enlarge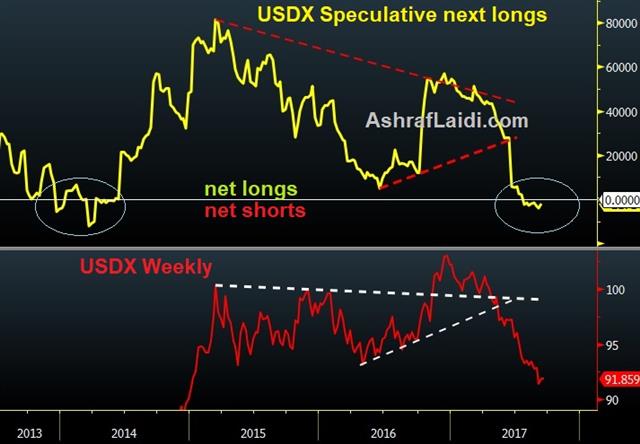 A cascade of growth downgrades followed US retail sales and industrial production numbers on Friday. Retail sales fell 0.2% compared to +0.1% expected in August. The control group, which excludes autos, gas and building supplies was down 0.2% compared to +0.2% expected. In addition, July sales were revised lower.
It wasn't just consumers with bad news. August industrial production fell 0.9% compared to +0.1% expected in the worst monthly decline in five years. The Fed said Harvey reduced output by 0.75 pp so it's not as bad as it looks, but it's undoubtedly a poor reading. How poor? The NY Fed and Atlanta Fed GDP trackers were both lowered by 0.8 pp for Q3 while Q4 estimates were trimmed as well.
The market took the weak data in stride in a sign that it views Harvey as the culprit. That may be a hint on how buoyant the dollar will be in the week ahead as the market prepares for details of Trump's tax plan at the end of the month.
What was unambiguous was pound strength as cable finished the week just under 1.36. The OIS market is pricing in a 65% chance of a BOE hike on Nov 2 and 73% before year-end. What makes that probability even higher is that Carney's credibility can't afford another misstep.
CFTC Commitments of Traders
Speculative net futures trader positions as of the close on Tuesday. Net short denoted by - long by +.
EUR +86K vs +96K prior GBP -46K vs -54K prior JPY -57K vs -74K prior CHF -2K vs -2K prior CAD +50K vs +54K prior AUD +60K vs +65K prior NZD +12K vs +15K prior
Those sterling shorts are suddenly rather vulnerable and no doubt many covered since the Bank of England decision. Watch out for Carney's speech today at 11 am EST (4 pm London). Euro shorts were pared after last week hitting the most-extreme since May 2011.
Latest IMTs