Intraday Market Thoughts
CAD Shrugs Trump Snub
The Canadian dollar has broken a major triangle resistance vs USD despite Canada being left out of a US-Mexico agreement. Does that mean a US-Canada deal is inevitable despite tough US talk? The DAX short was stopped out, while USDCHF was closed for over 150 pips. A new JPY trade has been issued to Premium subscribers with 2 charts & 6 supporting points.
Click To Enlarge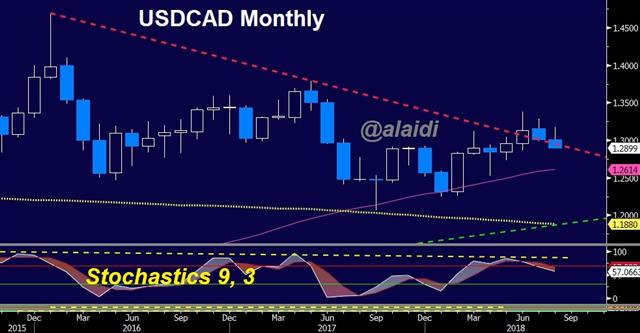 USD selling is being led by EURUSD and AUDUSD, while USDCAD breaks below a 6-month trendline support. US and Mexican leaders lauded a breakthrough in NAFTA talks. That's undoubtedly good news or the global economy and shows the Trump White House can make a deal. That was reflected in a 22 point jump in the S&P 500 to a fresh record.
What's less certain is what this means for Canada. The US-Mexico talks were touted as a way for both countries to sort out bilateral issues in the deal – mostly on autos – while leaving some of the other sticky issues for trilateral talks. Instead, they cut out Canada and struck a deal on their own. Mexican president Nieto added some token lines aimed at including Canada but the foreign minister said the deal will go ahead with or without Canada. The Premium short in USDCAD is currently yielding 160 pips and remains open.
That's likely the message the Canadian negotiator Freeland will receive on Tuesday when she arrives in Washington after cutting a European trip short. Some parts of the deal may be acceptable to Canada. The sunset provision is gone and replaced with a 16-year deal that doesn't require re-ratification. However there is no longer a dispute resolution system and it was that clause that caused Canada to walk away from talks in 1987.
US Congress insists that Canada be part of the final deal. All the large US labour unions insist that NAFTA should remain trilateral and include Mexico.
What's also unclear is what's included on dairy another other sensitive issues. From the outside, it looks as if Canada has been placed in a corner with few options but that doesn't mean Trudeau will go quietly. Headline risks are high in the day ahead while we should not forget the 81% odds of a BoC rate hike in October.
Latest IMTs