Intraday Market Thoughts
Canada-US Tweak, China Inflation Next
The first meeting between Trump and Trudeau clarified the US President's position on the northern border. The pound was the top performer while the euro lagged. Chinese CPI and a speech from Kuroda are due up next. The Premium short EURUSD was closed with a 130-pip gain, leaving 2 USD trades and 5 others trades in progress ahead of Yellen's testimony.
Click To Enlarge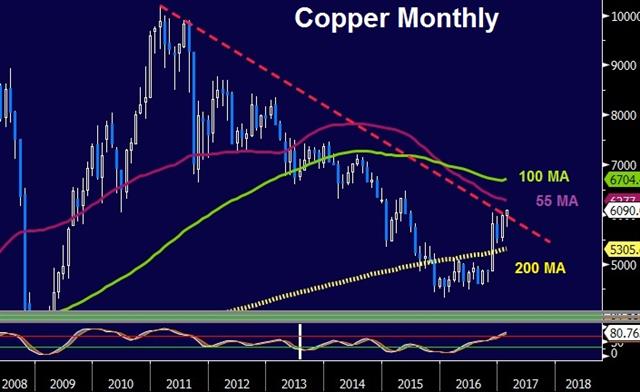 Canadian politicians and CAD traders have been scrambling for signs about how Trump saw the Canada-US relationship and we got the clearest signs yet on Monday. In a joint press conference at the White House, Trump said trade problems between the countries were "much less severe" than Mexico and elsewhere and that tweaks are coming, not an overhaul.
USD/CAD fell to the lows of the day at 1.3060 on the comments. The pair fell a half-cent in North American trade, despite a 2% fall in crude prices. The generally-positive assessment from Trump on trade and his commitments to easing cross-border commerce mitigate a key CAD risk and clear the way for another test of 1.3000.
Otherwise, newsflow was light to start the week before Tuesday's widely anticipated semi-annual testimony from Dr Yellen. We noted a New York Fed consumer survey that showed inflation expectations rising to 3% for the year ahead from 2.8%. We will be looking for an assessment from Yellen in tomorrow's testimony.
First, the focus shifts to China with the release of January CPI numbers at 0130 GMT. Some skews begin to drop out of the data and the year-over-year number is forecast to rise to 2.4% from 2.1%. The PPI is also expected to rise to 6.5% from 5.5%. China has fallen off the market's radar with all the political drama but an inflation problem could raise fresh risks.
The other event to watch is a Kuroda speech at 0430 GMT. There is speculation in some parts of the market that he will start to shift away from yield curve control but that would immediately risk unwinding the modest progress he's made on inflation.
Act
Exp
Prev
GMT
Consumer Prce Index (y/y)
2.4%
2.1%
Feb 14 1:30
Fed Chair Yellen Speaks
Feb 14 15:00
FOMC's Kaplan Speaks
Feb 14 18:00
Latest IMTs