Intraday Market Thoughts
Careful this week
A busy week lies ahead: Brexit amendment vote on Tuesday, US Q4 revised GDP, Fed decision, US/Canada jobs and resumption of the US-China trade talks later in the week with a host of central banker speeches. USD/CNY drops to key technical support (see more below). The pound starts the week on a lacklustre tone but holds to the bulk of last week's gains on a report that Theresa May told Cabinet she would not take the UK out of the EU without a deal. It helps to continue a run that made the pound the top performer last week. Carney and Draghi speak around 14:00-14:30 GMT/London. 4 out of our 6 open Premium trades are currently in the green, with the 2 losing trades in crypto currencies.
Click To Enlarge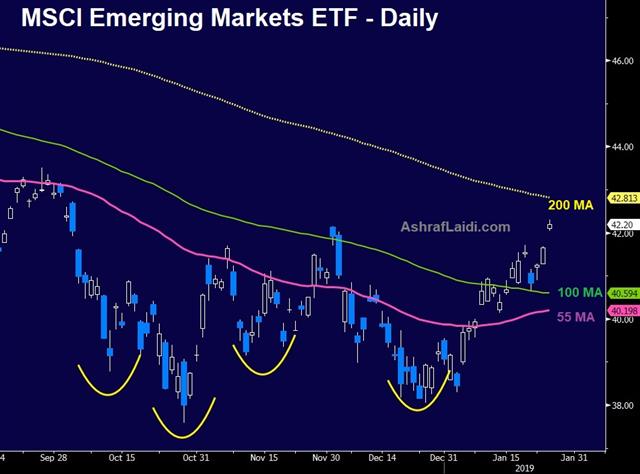 GBP dynamics are all about limiting Theresa May's options. The Brexit amendment vote is due Tuesday, which may limit her ability to leave the EU without a deal. That exposes her other frank where many members of her party believe she can't get a better deal without the threat of a no-deal Brexit.
The 2.5% jump in cable in the past week shows a market less fearful of a no-deal Brexit and if May's comments to cabinet are correct then the only possible outcomes are a deal, delay, election or another referendum. Any of those would be a near-term tailwind for sterling.
One risk is that uncertainty could begin to show up in the data but the risks are two sided. Consumers may retrench but businesses may be stockpiling. The Bank of England may have some insights on Monday when Carney, Broadbent and Ramsden are all set to speak. Carney's latest Brexit-related insights highlighted that the sterling's latest rebound reflected reduced expectations of a no-deal Brexit.
Meanwhile the US dollar came under substantial selling pressure on Friday with no clear catalyst. Even the end to the shutdown brought only minor and temporary relief. A few factors may have weighted. The WSJ reported that the Fed is considering keeping a bigger balance sheet. It's framed as a technical decision but the timing appears dovish. The arrest of Roger Stone was a reminder that Mueller's probe is nearing a conclusion.
The PBOC tweaked rules to add an extra 250 billion yuan in lending. USD/CNY reaches a 6-month low, touching its 200-DMA as the topic of CNY acquires a new role in the upcoming US-China talks. Here's what we said on Friday about the CNY and USD.
The slump in the dollar led to a one-month high in NZD/USD, an 11-day high in EUR/USD and the best levels in gold since June. Gold's best months over the past 15 years have proven to be January and August, with January in the green over the last 5 years & this year is no exception. Goldilocks inflation is especially postv when Fed moves from hawksh to neutral (negtv when moving from dovish to neutral).
Act
Exp
Prev
GMT
BoE Gov Carney Speaks
Jan 28 14:30
Latest IMTs