Intraday Market Thoughts
China Deal Optimism Props Risk Trades
Market ebullience intensifies after a brief pause on reports that US Treasury Secretary Mnuchin had proposed lifting some or all of the US tariffs on China. The reports were later denied but indices remain firmly in the green. The main risk to the prolonged rebound remains a sharper slowdown in China than expected. On Monday, Beijing will release key economic data and that argues for caution in the day ahead. On the wires just now, NY Fed president Williams stuck to somewhat dovish remarks saying no worrying signs of inflation pressures and interest rates are closer to normal. Fed funds rate probabilities for a 2019 Fed hike are at 21% vs 7% for a rate cut by year-end. Wednesday's GBPUSD long for Premium subscribers hit the final target of 1.2970 for 140 pips while Wednesday's Premium Dow30 long from 24080 is currently over 400 pts in the green. US industrial production rose 0.3% in December (vs exp 0.2%) after a downwards revised 0.4% in Nov. US markets close on Monday for Martin Luther King Holiday.
Click To Enlarge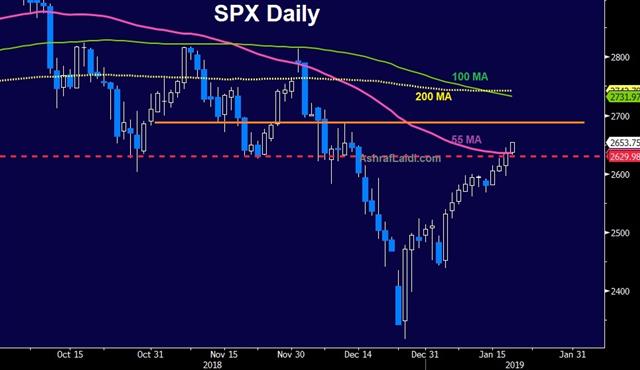 The underlying ebb and flow of the market at the moment is the balancing act between the negative risks of a slowdown in China and the positive risks of Chinese officials deploying stimulus to counteract it. That was crystalized at the start of the week when dismal trade numbers first hit risk trades, only for the moves to reverse on stimulus. Recall Wednesday's announcement from China's central bank to boost the biggest amount on record in money market injections (560 billion yuan or $80 billion) aimed at meeting seasonal demand for cash due to tax payments and the upcoming Chinese New Year Holidays.
The same risks are in play in the week ahead. On Monday (late Sunday in North America), China will release data on retail sales, industrial production and GDP. Chances are, those numbers will continue the streak of poor data. Also note that Monday is the Martin Luther King Jr. holiday so US traders won't return til Tuesday. There are other risks into the weekend as well.
China is expected to lower its growth target this year to 6.0-6.5% but even at the low end of that range, the target of doubling the economy in the decade will be met. It's a staggering achievement.
Onto Trump
Is Trump done? Key members of his cabinet have all quit. The people around him have abandoned him. Will he still be the Republican candidate in 2020? The only reason he was able to maintain his grip on the Republican party this long is the alliance with his base as well as large financial backing.
His best bet for survival is to re-boost the stock market by making a deal with China. Ashraf tells me that failure to do so in the next six weeks will get us back to heightened market volatility, especially if the Government shutdown extends to debt ceiling acrimony.
More broadly, it's over for him and it's just a question of how messy it will be. If this shutdown is any indication, it will be ugly but don't underestimate the chance that he walks away. If Trump clinches a deal with China he could claim victory for that and blame the rest on the Democrats. That's a temporary upside risk for markets.
Latest IMTs