Intraday Market Thoughts
Ceasefire & Surge
An agreement by the US to hold off on any additional tariffs on China for 90 days breathed life into risk trades as markets kick off a new month. AUD and CAD were the top performers over the last 12 hours, while the pound lagged. Gold and silver are posting their 4th biggest daily gain of the year. CFTC positioning showed more euro shorts. Before we get to Friday's US and Canada jobs figures, note that Fed chair Powell will testify to Congress on Wednesday, on the same day that US markets will close in honour of the late president George Bush. Thursday's evening's Premium long on the Dow hit the final entry at 25720 from 25370 entry & prior entry of 24360 for a +1300 point gain. A new trade has just been issued moments ago before this post.
Click To Enlarge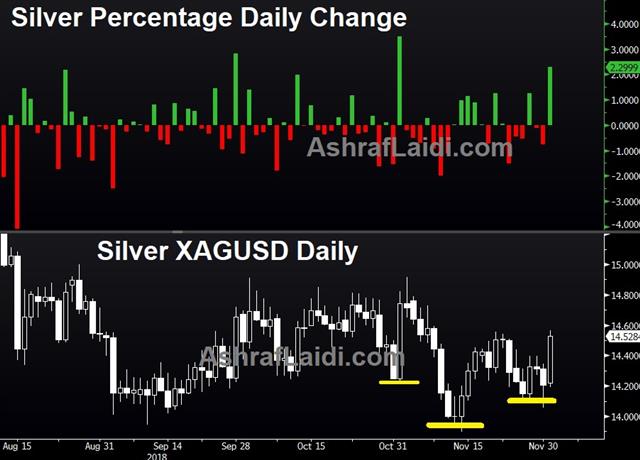 The US said it will hold off from any additional and planned tariffs on China for at least 90 days after China agreed to ramp up US imports and work towards US demands for more-balanced trade. Heading into the weekend, there was a risk of a blowup after the Xi-Trump meeting at the G20 but the leaders found some common ground. For China, the strategy continues to try to minimize the damage and run out the clock on Trump's term. This is a small step towards that and a sign that they are open to more-comprehensive changes.
The US-China story buried a surprise in the G20 statement. Leaders pledged to reform the WTO in a nod indicating emerging markets are less likely to get leeway in the future. Negotiations will undoubtedly be contentious and WTO changes always take years but by giving a win to the US, that also lowers the risk that the US will withdraw or sabotage the critical pact.
Early market moves were hefty with NZD/USD climbing 1% and AUD/USD up 0.6% in a broad jump in risk trades. Metals pushed higher, led by copper attempting a break of the neckline resistance.
CFTC Commitments of Traders
Speculative net futures trader positions as of the close on Tuesday. Net short denoted by - long by +. This week's report was delayed because of the US holiday.
EUR -55K vs -47K prior GBP -39K vs -43K prior JPY -104K vs -100K prior CHF -21K vs -20K prior CAD -9K vs -6K prior AUD -54K vs -59K prior NZD -21K vs -19K prior
Euro shorts have increased by more than 40% in the past two weeks as the market bets on a dovish shift at the ECB after months of disappointing data. The risk is that the ECB once again uses the 'delay and pray' strategy of hoping for better data in the months ahead.
General Trade Ideas
Here's a video that Ashraf shared with a group of traders at a dinner on Friday. Some of the trade ideas may be new for some, not so for others.
Full video
.
Act
Exp
Prev
GMT
FOMC's Brainard Speaks
Dec 03 15:30
FOMC's Williams Speaks
Dec 04 15:00
Latest IMTs