Intraday Market Thoughts
Correction here to stay, DUP Kneecaps May
Stocks resume their selloff, with DOW30 and SPX500 extending falls below their 200-DMA, down 7.7% from the September highs. Gold and silver are outperforming all currencies, with the fomer decisively breaking above its 100DMA and its 200-WMA. Cable fell more than a full cent Monday after the DUP said it would support a parliamentary bill that would make the EU's Irish border backstop illegal. Italy's budget awaits final word from the EU and Turkey's Erdogan stated that more is expected from Saudi with regards to the Khashogggi investigation.The DAX and DOW shorts hit their final targets for 370 and 360 pts gain respectively. New trades will be issued ahead of Friday's highly anticipated US GDP figures.
Click To Enlarge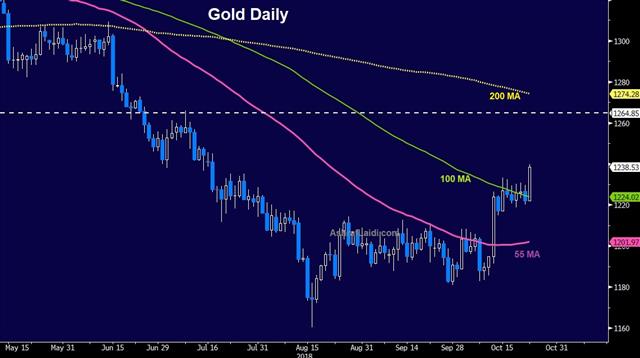 Euroskeptic parliamentarians are worried that Theresa May could force the UK to stay in the customs union indefinitely or create some type of border in the Irish sea. She's stuck between the EU and members of her own party who want a clean exit.
She made a speech on Monday saying 95% of the deal was done in an effort to underscore progress but the border backstop is increasingly politically charged and her talk backfired when a report said the DUP would support a bill that would make what the EU wants to do illegal.
The amendment itself was later dropped but the willingness of the DUP to vote with euroskeptics threatens to scuttle everything, including May's leadership. That uncertainty is what sent cable to the lowest since Oct 4.
The Bank of England is seen to be sidelined until the dust clears on a divorce deal and Carney has been cautious about saying anything politically charged. However he will speak at 1520 GMT in Toronto and his comments could add another wrinkle to the GBP trade.
Less than 24 hours after Chinese stock markets ripped higher Fri/Mon in their biggest two day rally in three years on larger-than-expected set of personal tax breaks released on the weeked, global indices are not pausing their correction anytime soon. Fundamental repricing of coprorate earnings and the ascent of bond yields remains a key factor alongside the uncertainty from the US midterm elections.
What's equally notable is how little that upbeat sentiment has spilled over. US equities fell again on Monday and the commodity currencies closed near the lows. The divergence continues.
Act
Exp
Prev
GMT
FOMC's Bostic Speaks
Oct 23 17:30
BoE Gov Carney Speaks
Oct 23 15:20
Latest IMTs