Intraday Market Thoughts
Cracks Appear in Trade Deal
The US-China trade deal may be pushed back with sides struggling to agree on a location, and more likely on the contents of an agreement. On Friday, US indices moved further away from their highs after pres Trump told reporters the US has not agreed to roll back tariffs on China (more below). The US dollar ends the week higher against all currencies as gold and silver were pummeled relative to coppper in a sign of growing optimism. Some key market levels are outlined below.

US-Chinese disagreements about the location of signing the trade deal appear to be the least of traders' concerns at this point.
Those Market Levels
Fundamentals apart,
XAUUSD
broke below the 1480 horizontal base, now attempting to a hold above the 1455 (prev resistance extension). A break below it, risks dragging it to 1429.
US 10 year yields
broke the 2-month trend line resistance, paving the way for a required breach of 1.95% in order for the 3-month uptrend to remain intact. Similarly,
USDJPY
faces trendline resistance at 110.10, but only after a confirmed close above 109.55.
With regards to indices, we were stopped out of 2 shorts in indices after 5 consecutive trades hit their targets (4 shorts and 1 long). In this week's video, we mentioned an upside target, which was hit. Next week, the Premium Insights will be the time to act on that rationale and formulate a trade for it. Stay tuned.
The yield curve is further steepening after a brief inversion, which helps explain the records in US indices. The Fed wants to stay out of the conversation, leaving the US-China trade talks approach a positive compromise. Said differently, the Fed aims at returning to a phase where it makes minor changes to its assessment and no changes in rates. Such would be the ideal scenario for stocks. The only issue, is whether the world (and US) economy manage to shake off their pockets of weakness and if stocks avoid another round of VIX indigestion. Watch the sectors and their technicals--The leaders vs the laggards --the defensives vs cyclicals.
https://twitter.com/alaidi/status/1192832427401580544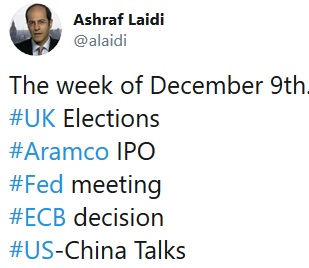 Latest IMTs