Intraday Market Thoughts
USDJPY Advances on Diplomacy 101
At its core, 21st century politics is the art of making people like you. What's now clear after Abe traveled to meet the US President is that he is one of the world's masters. On the strength of Abe's US charm offensive, the yen opened lower to start the week as USDJPY breaks to 114.15. We look at what that says about the future of politics and trading. CFTC positioning data showed a fifth week of dollar selling. All 3 USD Premium trades are currently in the green, one of which will be locked in ahead of Yellen's Tuesday testimony.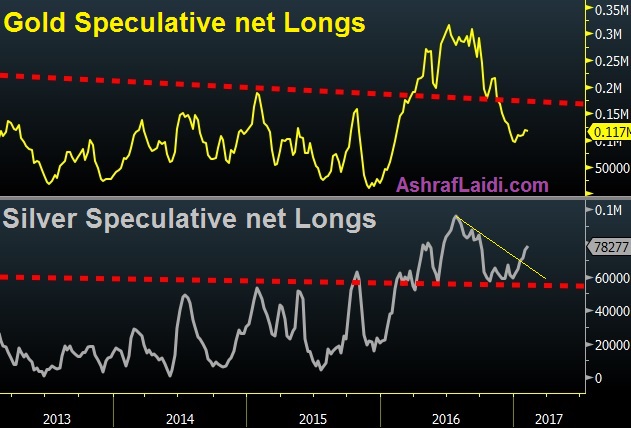 For most of the past 30 years diplomacy was less-consequential. There were minor benefits when a leaders liked one another but the globalized trade rules were largely written in stone.
That's changing as Trump and populism reshuffle the deck. Abe's performance and the market reaction to start the week shows that diplomacy is now tradeable. USD/JPY opened the week 50 pips higher.
It's clear the Japanese leader had a plan ready ahead for a Trump victory. He quickly traveled to New York with the gift of a gold-plated golf club, reflecting a shared interest. He then found a way to get to the front of the line in terms of official visits.
The two were all smiles during the two-day meeting and Abe achieved all his goals. He drew US support for Japanese control of the Senkaku Islands and turned Trump's gaze away from yen weakness. That's a big win for Japan and surely a few other world leaders will have wished the cozied up to Trump so quickly despite the objections of some of their domestic voters. Theresa May tried pulled off a similar coup.
The performance and Trump's warm reception of a major exporting competitor, highlights that Trump is a leader who deeply cares about personal relationships. As Australia's Turnbull already discovered, he can be petty and quick-tempered.
In the weeks ahead, we will be watching how he interacts with leaders from China, Canada, Europe and the rest of the world.
Commitments of Traders
Speculative net futures trader positions as of the close on Tuesday. Net short denoted by - long by +.
EUR -45K vs -46K prior JPY -55K vs -58K prior GBP -64K vs -62K prior CHF -14K vs -17K prior AUD +17K vs +12K prior CAD +4.7K vs +3K prior NZD -2K vs -1K prior
The Australian dollar is beginning to get some traction in the speculative market but few believe the run-up in iron ore prices will last. The RBA is firmly on the sidelines. More broadly, the moves were small on the week but continuing the 2017 theme of paring USD longs.
Latest IMTs