Intraday Market Thoughts
Dollar Bid Doesn't Bite
Another day with little or no US economic news or political drama, allowing us to ebvaluate FX in thos vaccum. The US dollar went from posting short-lived gains on Tuesday to broad declines on Wednesday. Bond bulls and bears are battling out, while FX traders await another Trump-Abe meeting before taking the next move in USDJPY. A new commodities trade, charts and note have been issued to the Premium subscribers.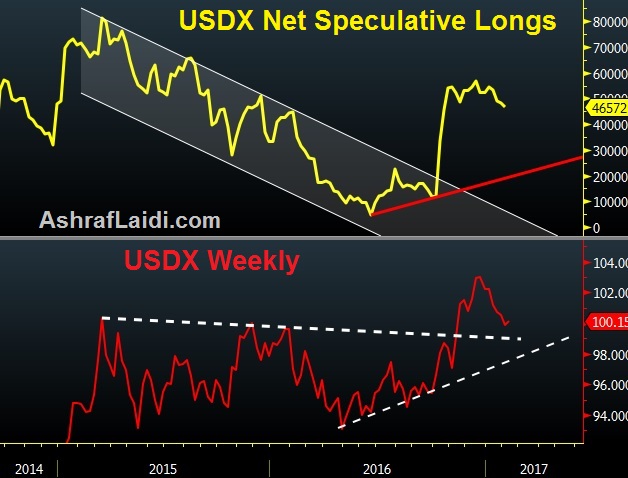 We start by lamenting the loss of another US forex broker but also the hope it will eventually lead to a steady, safe environment for retail traders.
The US dollar started New York trading on Tuesday with a strong bid but the lack of follow through was concerning. Looking at the CFTC numbers, it's clear that enthusiasm for the long dollar trade is starting to wane. Contrast that with surveys that show analysts continue to believe in the dollar.
One theory is that the US dollar is simply consolidating after an extended move higher. Another is that US political uncertainty is causing traders to square up until next week's Yellen testimony to Congress. Why not a bit of both? We aren't alone in waiting for clarity on fiscal policy and count Janet Yellen as someone else who is watching and waiting to see what happens before making a move.
What is slightly concerning is the US dollar's inability to finish days near the highs. The Dollar Index on Tuesday looked like it was on its way to the best day in a month but it halved its gains late.
On the flipside of the equation is the pound. It was battered early in London but bounced nearly 200 pips from the lows to finish above the 100-day moving average. Is all the Brexit bad news finally priced in? It might be and technicals (including the reversal today) make a constructive case.
The yen bounced around Tuesday in a 111.75 to 112.50 range and it will be in focus at 2350 GMT with December Japanese current account data. The consensus is for a 1183B yen surplus.
Late in the week or on Saturday, Mnuchin is likely to be confirmed as Treasury Secretary. Shortly afterwards, we will be closely watching for any shift on US currency policy.
Latest IMTs