Intraday Market Thoughts
Dollar Defence Cracks
The increasing number of breakdowns on US dollar charts is impossible to ignore. On Tuesday, it was EUR/USD as the pair rose to the highest since 2018. Moments ago, it hit 1.2108. Many aspects are weighing on USD, but
chief among them is the breakout in 10-year breakeven rate above the 1.81% barrier to 1.85%
, suggesting rising inflation expectations and a stronger case for metals.
Ashraf's tactical Premium short in EURUSD was stopped out, while the EURGBP long hit its final target.
Click To Enlarge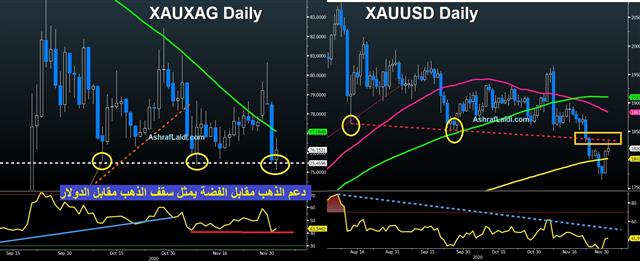 EUR/USD made a textbook break of the September high on Tuesday as the dollar continues to take on water. After running into sellers at 1.20 a day earlier, the pair broke through in a big way and continued above 1.2100. If the pair closes Wednesday above 1.2080/85, then the next target stands at 1.2160, followed by key resistance at 1.2195.
Cable jumped by more than a full cent on Tuesday on reports that Brexit negotiations are entering 'the tunnel' -- meaning that Barnier and small teams will go into intensive talks and avoid leaks--But the pair gave up all of those gains today on news of lingering disagreements on the topic of fisheries.
Gold and Silver added to their gains, with Ashraf pointing out in the above charts that the 75.00 support in the Gold/Silver ratio represents the equivalent resistance in XAUUSD, shown at 1838/40
More broadly, the US dollar looks soft on numerous fronts, including the commodity currencies and emerging market currencies. Even gold rebounded on Tuesday.
The trigger was a bipartisan group in the senate coming together on a stimulus deal. It led to a jump in risk appetite but the biggest move might have been in 30-year Treasury bonds, which rose 10 bps to 1.66%. We're not in danger of a serious breakout on that front until 1.75% but market participants will be watching closely for follow-through.
Along with higher yields, breakevens are also rising with the 10-year measure hitting 1.85%, which is the highest since May 2019. It symbolizes rising market expectations of inflation and it was underscored by the Fed's Evans reiterating no rate hikes in his forecast through 2023. Expect further USD weakness to persist if these break-even rates show no retreat any time soon.
In testimony Powell also remained dovish but it was notable that neither he nor Fed dove Daly offered any hints of December action. It's safe to say that the Fed isn't going to make a move of a duration extension this month.
Latest IMTs