Intraday Market Thoughts
Dollar in Demand, Best in 8 Months
The US dollar continues to strengthen and that leaves us with an opportunity to highlight the bull case.
DXY is having its best month since July 2020.
The US week wrapped with softer than expected core PCE price index at 1.4% y/y vs exp and prev 1.5%. Below are 2 charts:
First is the extended analog with 2018
that deserves no further explanation. The second chart is that of the
latest progress in USDJPY, where it was when we entered
for the WhatsApp Broadcast Group.
Click To Enlarge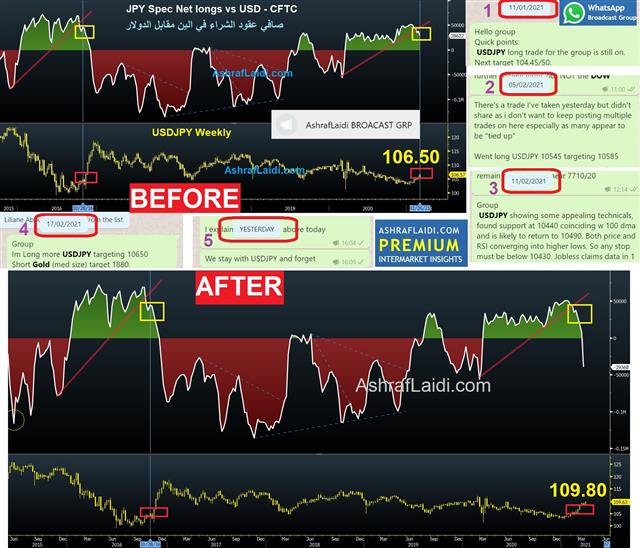 Click To Enlarge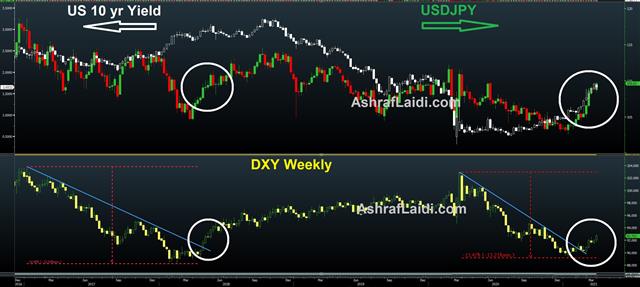 US 10-year yields made a big move higher on February 16 to break above the January top of 1.20%. That kicked off a round of risk aversion that continued this week. The second-worst performing currency in that period is the New Zealand dollar, something that would surprise few. However the worst performer is the Swiss franc, which is a traditional safe haven.
What's happening?
It's all about carry. Pledges from the Fed to keep ultra-low rates had made the US dollar into a funding currency but with Democrats taking over the Senate and passing a huge stimulus bill, it materially changed the outlook for US growth and inflation.
At the same time, the eurozone is struggling to roll out the covid vaccine and on Thursday the ECB's De Guindos said H1 growth will likely be negative.
There are plenty of cross-currents but there is a clear unwind in USD-funded carry trades ongoing and instead, the dollar is being bought on a carry trade of its own in a complete reversal. That also helps to explain how CAD is the only currency to outpace USD. Canadian bonds have narrowly traded alongside their US counterpart and as the Canadian housing market heats up, there's a strong argument that the BOC will taper and hike before the Fed.
Another factor that's boosting the US dollar is positioning. Short-USD was one of the most-crowded trades coming into the year. As the dollar index climbs to the highest since November, that trade will thin out.
What could kick the dollar into overdrive is a shift in Fed communication. For now, the chorus about seeing through transitory inflation is a huge hurdle to overcome but it won't be done all at once, but it could be slowly chipped away.
We also do not think the chapter of oil selloff is over.
Latest IMTs