Intraday Market Thoughts
Draghi Punts, Trump Leaks on Trade
The ECB decision was a dud as it pushed the key decisions until September. The yen was the top performer after comments from Kuroda surfaced; the kiwi lagged. The speech from Donald Trump at the RNC is due later but a draft copy leaked early. There are 8 Premium trades, including 2 in metals and 2 in JPY.
Click To Enlarge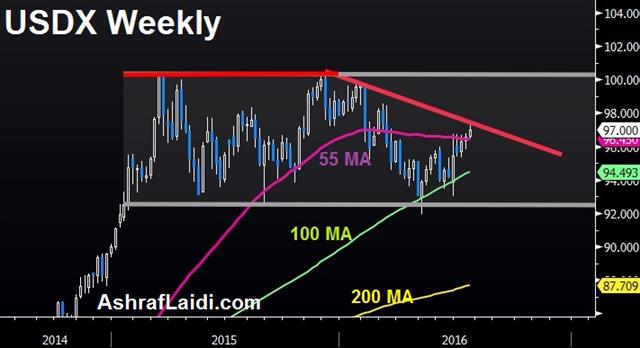 The ECB didn't make any changes or tweaks to policy Thursday. Draghi said officials didn't even discuss rates or its QE program and will instead wait for new forecasts in September before acting.
The market sniffed out that nothing was coming when he used the early part of his statement to implore governments towards structural reforms. That was Draghi's way of saying the central bank has done enough and it's time for governments to do more. It's ground he's covered many times before but it's also symptomatic of the ECB waving the white flag and that led to a temporary 50-pip bounce in the euro.
Earlier in the day, the BBC published comments from Kuroda ruling out helicopter money. USD/JPY initially fell 130 pips but it recovered the majority of the losses when it was revealed the comments were five weeks old. Later, talk of mistranslations circulated to add to the confusion.
Another problem with all the 'helicopter money' chatter over the past two months is it's a poorly defined term. It certainly doesn't mean literally dumping cash from helicopters and most don't view it as widespread gifts to taxpayers. Yet something like the BOJ converting its holdings to perpetual zero-yield debt and ramping up buys along with government fiscal spending is closer to the gray area. That's essentially monetization and certainly yen-negative but not necessarily helicopter money.
Looking ahead, the highlight later is Donald Trump's nomination speech. A draft of his speech was leaked and the main theme is immigration but it's also heavy on trade. Most of it is broad and covers familiar ground but in one passage he takes square aim at China and its "outrageous theft of intellectual property" and "devastating currency manipulation."
Other events on the calendar include the 0200 GMT release of the Nikkei Japan PMI for July and a 0325 GMT roundtable discussion between Chinese Premier Li Keqiang, Lagarde, Carney and others.
Latest IMTs