Intraday Market Thoughts
GBP-DUP Bounce, Euro Stable, Yuan into Equation
The euro regains half of Thursday's 95-pip decline, which was caused by a Draghi's shift of the balance of risks to the downside (more on this below). GBP spiked around midnight on reports that the Democratic Unionist Party will privately agree to support Theresa May's 'Plan B' Brexit deal when she improves the Backstop component ahead of the House of Commons vote. Brexit focus will shift towards a series of votes scheduled for Jan 29, discussed here. Softer than expected IFO data from Germany failed to prevent the euro bounce. A new Premium USD trade was issued yesterday, already in the green. US durable goods and new home sales will not be released due to the ongoing US govt shutdown. Also note a potentially vital development for FX traders on the US-China talks.
Click To Enlarge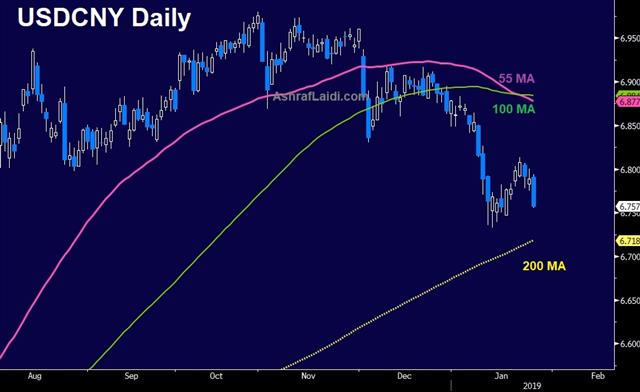 Draghi shifted the risks to the downside in a move that undermined the euro but it wasn't a straight-line move. He also hinted at reluctance to use LTROs and TLTROs and that initially sent the euro to 1.1380 before it embarked on a long slide to 1.1290 in part due to reports saying Germany was preparing to sharply downgrade its 2019 forecast to 1.0% from 1.8%. Ashraf tells me Draghi's dovishness was especially thought out ahead of next week's FOMC statement, which will inevitably contain a dovish shift on interest rates from the December meeting. It could well be Draghi was countering any potential EUR bounce from the Fed.
Technicals will play a large part in the next move as EUR/USD approaches the January low of 1.1280, the Dec low of 1.1270 and the late-November low of 1.1267. All those levels could easily be taken out in cascading stops. On the flipside, it could hold and continue to build from that base.
On the flipside of the trade, US Senators may be working on a compromise to reopen the government for three weeks after two votes failed Thursday. A three-week extension on its own does almost nothing for growth, sentiment or the dollar but it would open the door to a real deal.
Yuan Component of US-China Talks
Finally, the US-China trade negotiations are now divided between the camp of Treasury secry Mnuchin and camp of Commerce Secry Ross, whereby the former sounds more optimistic statements about an agreement in contrast to Ross. More importantly for FX traders, Mnuchin is increasingly referring to the rising value of
the Chinese yuan as part of the negotiations, which could be intepreted by traders that if Beijing allows further CNY appreciation, then that could count as a key positive step to the talks.
Act
Exp
Prev
GMT
New Home Sales
Jan 25 15:00
Latest IMTs