Intraday Market Thoughts
Familiar Tune with a Twist
All eyes turn to Wednesday's FOMC statement and Powell's press conference.
Until, then, markets (equities, bonds and cryptos) will do their best to extend the recent rallies
. A series of economic releases on Monday underscored a theme that's increasingly well understood while continuing to leave us unsure how it will end. All currencies are down vs USD, with the exception of JPY. Euro rebounded to start the week as the market remains in high anticipation of central bank moves.
WhatsApp Group members got out of the 3rd long in the DAX at 15890
, after the 1st entry began at 15100s 4 weeks ago. Below is 1 of the 2 charts
published on Oct 6th,
making the case for the long in the DAX.
Click To Enlarge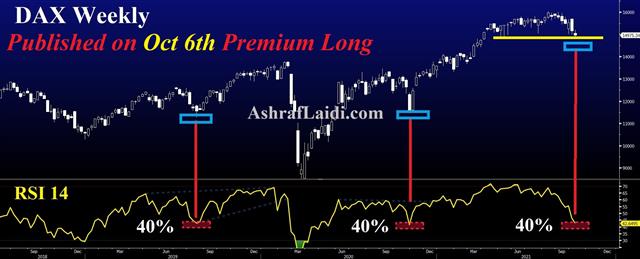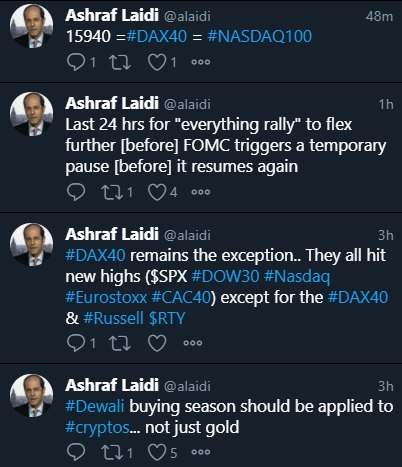 A comment in the ISM manufacturing report summed up everything about the world economy at the moment: "Business is getting stronger, but the supply chain is getting worse every day" a chemical product manufacturer wrote.
The survey itself was a tad stronger than the consensus at 60.4 vs 59.2 expected. Prices paid soared, new orders cooled and customer inventories remain thin.
The Markit manufacturing PMIs for the US and Canada underscored the same themes.
The question from here is what happens next. We're keeping a keen eye on growing covid cases in China and the potential for shutdowns there. At this point, the global supply chain can't survive another blow.
Aside from that, the question is whether bottlenecks are getting worse or better. That's not something easily measured as it's been taken for granted forever. As it limps along we see more reports of companies willing to pass on costs. Perhaps that could unwind later but it's generally something that tends to be sticky. The longer it lasts, the more everyone through the chain will want to be compensated more, including the workers.
That's the question the market continues to struggle with because it's not just a question of rising inflationary pressures – that's obvious – but for how long it will persist and how high rates might need to go to reverse it. What's clear is that markets are losing confidence in central banks and the RBA's hapless attempt at committing to yield curve control and no rate hikes until 2024 underscores that. In some fields, that kind of misstep would prompt a resignation.
Latest IMTs